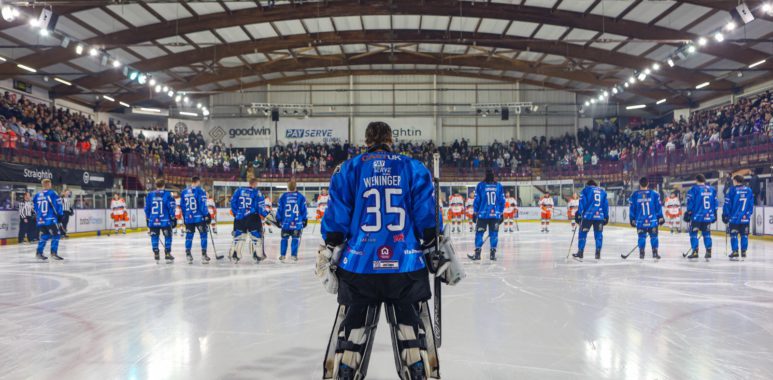 STORM VS STEELERS THIS SATURDAY – ALL YOU NEED TO KNOW
MANCHESTER STORM VS SHEFFIELD STEELERS  – CHALLENGE CUP FIXTURE – SATURDAY 11TH NOVEMBER 2023 @ 7PM – PLANET ICE ALTRINCHAM
This Saturday see's the 2023/24 season squad take on Sheffield Steelers in our annual Remembrance Day fixture. Challenge Cup points are on the line inside the Storm Shelter in what is sure to be an electric match up.
We're down to the final 350 tickets for this fixture at time of writing and is on course to be our second sold out match of the season! If you'd like to attend this Saturday, please book your seats in advance to avoid disappointment as tickets are selling fast.
A message to Sheffield Steelers fans – We're sure Saturday is going to be difficult and many wanting to support the team in their first game back. There are 4 seats left in the 'away' blocks – feel free to book anywhere inside the Storm Shelter, you will be looked after. We advised using Block 115 as a 'unity' block to encourage fans of all teams to sit together to enjoy the game we all love, but this block has now fully sold out. If you're a Sheffield Steeler, a Nottingham Panther or a fan or another team but would like to attend this match up, we suggest booking in Block 106, B111 or B112 as the majority of the other blocks have now sold out or are close to capacity.
AS IT STANDS
It was a mixed weekend of results for Manchester Storm as they travelled to Cardiff on Saturday and picked up a 3-1 win after a fantastic team effort. Sunday however was a difficult affair coming out on the losing end of a 5-1 scoreline at home to Belfast Giants. The 2023/24 season squad look to bounce back with a big win this Saturday in front of the home fans.
The win on Saturday was enough to keep Head Coach Matt Ginn and his men in third position in the Elite League standings ahead of weekends opponents Cardiff Devils and Belfast Giants.
Check out the league and cup standings on the official EIHL website HERE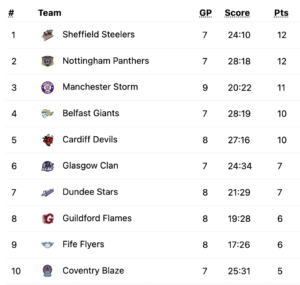 WE WILL REMEMBER THEM
Manchester Storm will wear a specially commissioned Remembrance Day jersey on Saturday 11th November as they take on Sheffield Steelers inside the Storm Shelter.
Our annual Remembrance Day fixture is always one of the highlights of the hockey season and with over 1,800 tickets sold at time of writing, it's sure to be an incredible night in front of a packed house.
There will also be a pre-game Remembrance ceremony on Saturday, so please be seated a little earlier than usual as we pay our respects together. 
If you'd like to be in attendance for this fixture please book your tickets in advance to avoid disappointment as less than 350 tickets remain!
Information on the sale of the player-worn Remembrance jersey coming soon.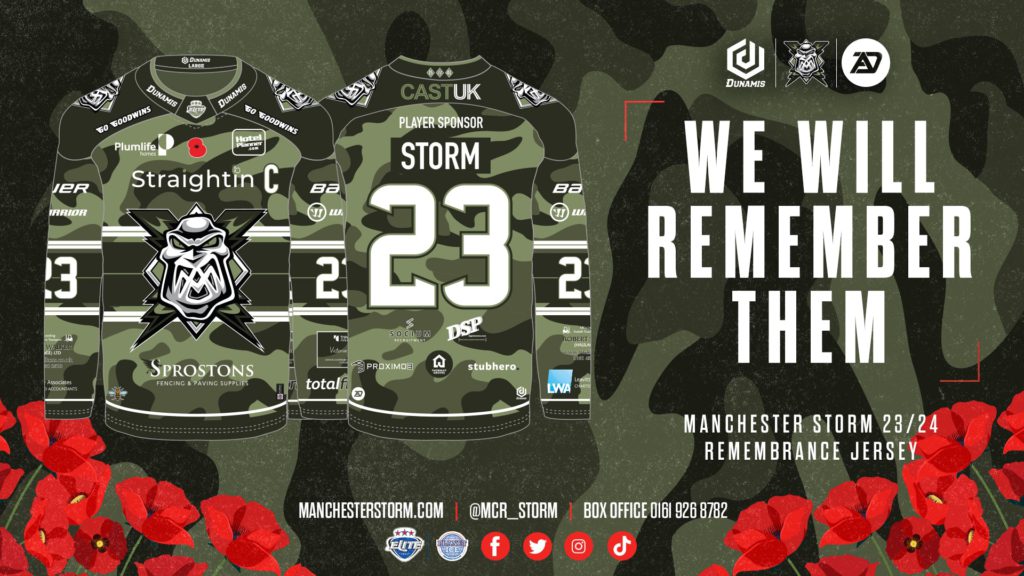 BEGINNERS GUIDE TO THE 50/50 MATCH NIGHT RAFFLE
With many new fans joining us inside the 'Storm Shelter' over the last 18 months, we've made strides to make the experience as enjoyable as possible not only from a match night perspective, but also by introducing the 'Beginners Guide To Manchester Storm' to try and cover the basics of the club, league and the rules so all can feel part of the club from day one.
Here we're going to explain in a little more detail the '50/50′ match night raffle! Read the full article HERE
BEGINNERS GUIDE TO MANCHESTER STORM
We've put together a handy 'Beginners Guide To Manchester Storm' for all of our new fans! Check it out HERE!
HOW TO FIND US
Manchester, planning to join us for our fixture this Saturday? – you'll need to know ! Train, tram, bus or car – we've got you covered! Check out our handy 'How To Find Us' guide HERE
10 REASONS TO CHECK OUT THE STORM
There's many reasons you should join us inside the 'Storm Shelter' but here are some reasons why it's worth stopping by for a game this season! Read more HERE!
HOME IMPROVEMENTS
Now our competitive campaign is in full swing, check out some of our 'home improvements' we've made to the 'Storm Shelter'. Read all about it HERE
LIVE-STREAM
If you can't make it to the 'Storm Shelter' this Saturday, you can stream the fixture courtesy of 'Storm TV' HERE – The fixture is set to start at 7PM.

SEASON TICKET HOLDERS: If you have any issues with your physical or digital season tickets or would like to discuss any matters in further detail, please open a support tickets on our digital ST platform HERE
OTHER INFORMATION
– Doors open 6PM
– Face-off is 7PM
– Tickets from £12 (+ Planet Ice Booking Fee's Apply)
– Family tickets available
– Train & tram links adjacent to venue (Altrincham)
– Car parking available (Free on Sunday)
CHECK OUT ALL OF OUR COMPETITIVE FIXTURES ONLINE HERE
HOSPITALITY
If you're interested in booking one of our match night hospitality suites please contact rf@storm-office.com for more information. The club are taking bookings for all remaining home fixtures with limited availability for our league fixture on Sunday 19th November.
NEXT HOME GAME: Tickets for our Elite League fixture on Saturday 11th November 2023 are available online HERE, by calling 0161-926-8782 or in person at the Planet Ice Box Office! Doors open 6PM for a 7PM start.