Lightning Jack is the mascot of the Manchester Storm Ice Hockey Club. Half man, half lightning bolt,  "Lightning Jack" joined the ranks of the Storm back in the clubs very first game back in 1995, at the Manchester Arena.  On game days, Lightning Jack has the important tasks of not only making children and adults smile, leading the chants from Block 109, but also to cause mischief in the away blocks, especially when the Sheffield Steelers are in town!
It is not unusual to see Jack at events around Manchester, Jack's fun & kind nature makes him very popular with children and adults alike. If you would like Lightning Jack to appear at your event, along with some of our players, please email Jamie Tunstall, the Managing Director of the Manchester Storm. (jt@storm-office.com)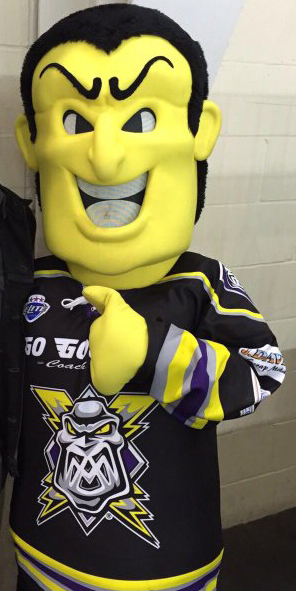 LIGHTNING JACK
  Date of birth : 15 September 1995
  Place of birth : Manchester
  Living place : Planet Ice Altrincham.
  Size : Big enough to hug several fans at once.
  Weight : Lighter than David Simms of the Sheffield Steelers.
  Personality : Noisy prankster.
  He likes : Rain. Blocking fans' view of the game with his head!
  He Dislikes : Yorkshire. Losing.
  Goals : Make every man, woman & child smile @ Storm games!