We are delighted to announce details for the 2021/22 Storm Support – The Manchester Storm IHC Supporters Club Membership Scheme!
As always we must first say an enormous "Thank You" to fans that have supported the club through the pandemic and have already joined the 2021/22 Storm Support Membership launched in August 2021.
For clarification, current membership will expire at the end of June 2022.
All profits made from Memberships, Events, Travel etc have been reinvested back into the Manchester Storm IHC. This has allowed us to help the club in ways to make life easier for them and help give them that little bit extra competitive edge.
WHY BECOME A 2021/22 MEMBER?
This season we aim to further assist Head Coach & General Manager Ryan Finnerty in providing any additional equipment, transport, accommodations and or other items to be identified to ensure players are well rested and have the right environment around them. Of course, none of this would be possible without YOU!! Your membership goes a long way in supporting both the on ice and off-ice product.
So please consider becoming a Storm Support Member and supporting YOUR Manchester Storm!
MEMBERSHIP COSTS
The tariffs for the 2021/22 seasonal membership can be found below.
PLEASE NOTE: All renewals will need to provide a valid 2019/20 Membership number to cross-match their applications. Students will be required to provide proof of status by providing their student ID card or a suitable form of student identification.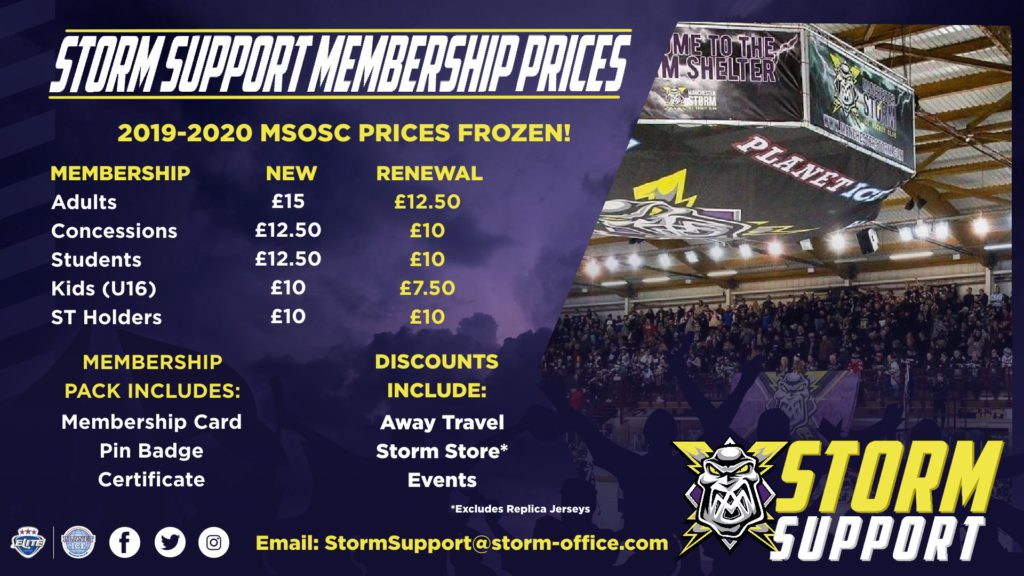 BENEFITS
The following list of membership benefits is subject to change and may be updated throughout the season as and when additional benefits become available (i.e. discounts from our associated partners):
New 2021/22 Membership card, certificate and pin badge
Discount off official Manchester Storm merchandise (excluding replica jerseys) at the club shop on game nights
Discounted prices on Storm Support organised away travel
Discounted prices on entry to Storm Support organised events
Automatic entry into our monthly competitions and prize draws including the chance to drop the puck, present the man of the match and or player of the month trophies on the ice.
Exclusive Offers from Club partners / sponsors (

TBC

)
Discount on all match night packages including:

Birthday Celebration £55.00 (£50.00 Members)
On Ice Mascot £25.00 (£20.00 Members)
Behind the Scenes Tour £30.00 (£25.00 Members)
Bench Warmer £20.00 (£15.00 Members)
HOW TO APPLY
Email StormSupport@storm-office.com for an application form and full payment details now.
The 2021/22 membership will run from 18th August 2021 through to the 30th June 2022
Membership is non-transferable
By ticking the box on the membership email, I agree that I am happy for Storm Support – The Manchester Storm IHC Supporters Club to use my personal information to contact me by email to provide me with information regarding Storm Support activities including offers for events and travel.
You also confirm that you consent to Storm Support holding your personal information for the duration of your membership.
We confirm that we will not pass any personal data held on to any 3rd party or publish your data in any way and that we will delete your data upon the cessation of your membership.
You may also contact us at any time to request that we delete any data we hold with regard to yourself, however, such a request removes any liability from ourselves should you fail to be informed of an event or meeting.
Conduct at events
Storm Support has introduced a zero-tolerance of any behaviour that is likely to damage the reputation of the Manchester Storm Ice Hockey Club and/or the Storm Support Supporters Club.
If anyone sees someone behaving in such a manner you should report it (confidentially) to a member of the Storm Support Committee via StormSupport@storm-office.com
The complaint will be investigated by a member of the Storm Support steering group.
If the complaint is considered justified (upheld), Storm Support reserve the right to terminate an individuals membership (without refund).