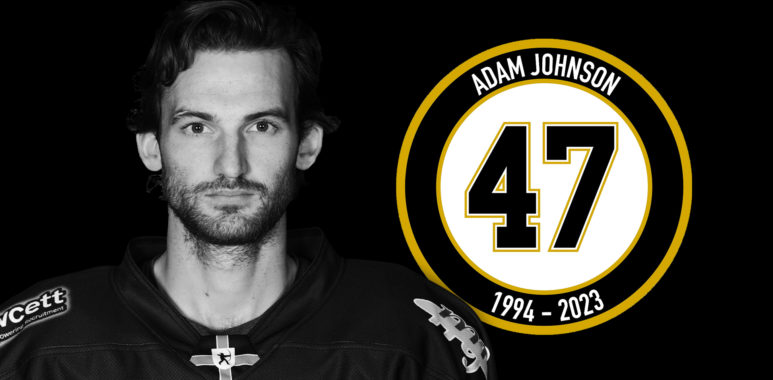 NOTTINGHAM & MANCHESTER TO PLAY IN ADAM JOHNSON MEMORIAL GAME
The Nottingham Panthers and Manchester Storm are proud to announce the Adam Johnson Memorial Game at the Motorpoint Arena on Saturday 18th November (7pm face-off).
Omar Pacha, Panthers CEO, said: "We'd like to thank our amazing supporters and partners for their patience with us at this difficult time for everyone. You have constantly been in our thoughts. "
We'd also like to thank Manchester for agreeing to help us by taking part in this exhibition game. We want to honour Adam and everything about who he was as a person and a player. "Our thoughts remain with Adam's partner Ryan, his family, friends and the whole of the Hibbing community who clearly loved Adam dearly. "Kevin (Moore) and I were honoured to attend the Celebration of Life service to pay tribute to Adam from everyone in Nottingham.
"It's bound to be an emotional night but a special one too as we come together to remember Adam, but this is also an important process for getting the team back on the ice. "We are incredibly proud of all our players and staff and how they have handled themselves during this difficult time. "Each player is going through their own process and there is no pressure on any of them.
We will continue to support them all in every way possible. "We look forward to welcoming our fans to the Motorpoint Arena a week on Saturday when we can come together to remember Adam and support our amazing team as they take their first steps on getting back to the ice." Head Coach, Jonathan Paredes, said: "Adam was an outstanding person and a remarkable hockey player.
The impact he made on and off-the-ice in his short time he was here was remarkable. "This is a special group of players and they will miss Adam hugely and they will never forget him. "We look forward to taking part in this game to not only honour Adam but to take an important step forward for the team." All tickets will cost only £10 and further information about how to purchase tickets and numerous fundraising initiatives will be released later today. Adam Johnson. Forever our #47.