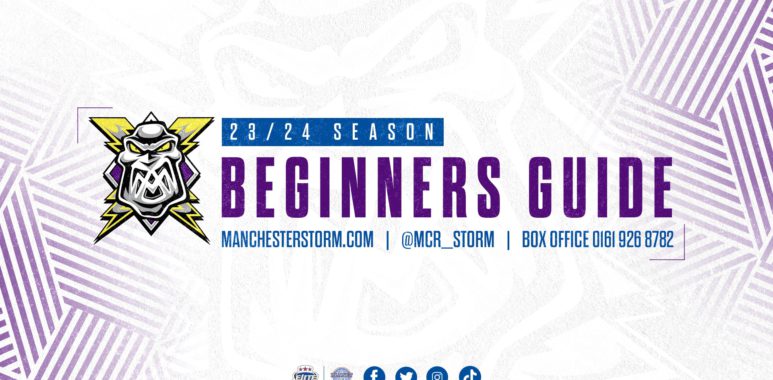 A Beginners Guide To Manchester Storm
Welcome to the world of Manchester Storm!
If you're new to our team, there's a lot you might be wondering about. That's why we've put together this handy beginners guide to cover all the basics.
HOW TO FIND US – First of all, if you're planning to attend a match you'll need to make your way to the 'Storm Shelter' – Check out our 'How To Find Us' guide HERE!
TICKETS – OK, now you know where to find us – next up, tickets! You can purchase tickets online HERE or by calling the Planet Ice Box Office on 0161-926-8782, or if you prefer you can purchase your tickets 'on the doors' on the day of the match.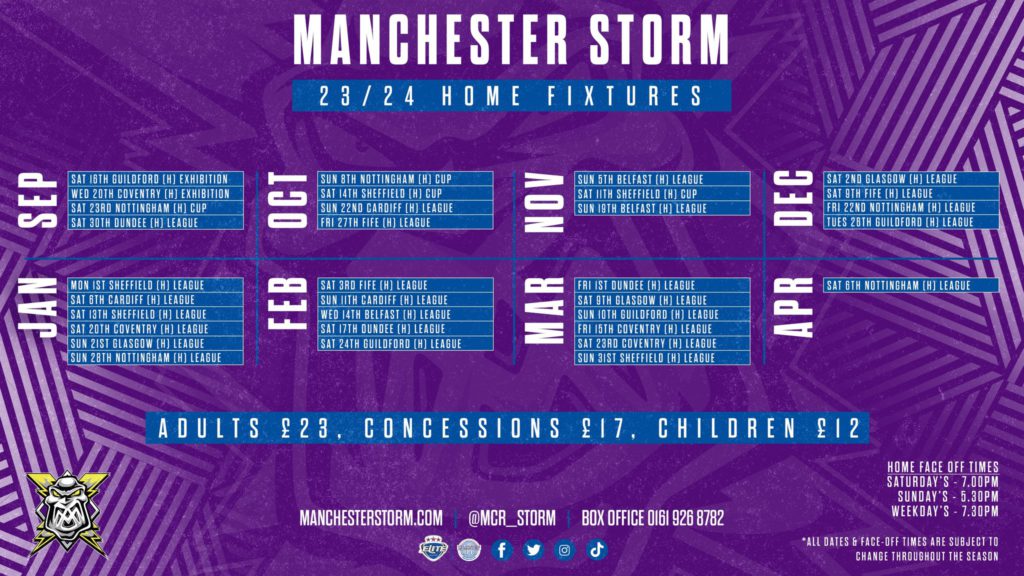 TICKET PRICES – a standard adult ticket at Manchester Storm fixtures costs just £23, a concession ticket comes in at just £17 and a childrens ticket costs just £12. The club is contracted to use the Planet Ice ticketing system throughout the season so a booking fee will apply when purchasing.
WHAT TO EXPECT –
The game is played in three periods of 20 minutes each, with a 15-minute intermission between each period.
If the score is tied at the end of regulation time, there is overtime. Overtime is played in 3-on-3 format, and the first team to score wins the game. If there is no scorer in sudden-death overtime, a penalty shootout will take place with the winner being awarded maximum points (2) and the loser being awarded (1) point for reaching overtime / penalty shots.
Each team has six players on the ice at a time: five skaters and a goaltender. The five skaters consist of two defencemen and three forwards, these players can change at any moment, but has to be timed to perfection, as you may give the opposing team an advantage!
There are a number of rules that govern how the puck can be moved and passed, and how players can interact with each other. Some of the most common rules include:

Offside: A player cannot enter the opposing team's attacking zone before the puck.
Icing: A player cannot shoot the puck from their own half of the ice all the way past the opposing team's goal line.
Hooking: A player cannot use their stick to hook or interfere with an opposing player.
Tripping: A player cannot trip an opposing player with their stick or skate.

You can expect to be inside the arena for approx. 2 to 2.5 hours
Doors to the arena open 1 hour prior to the scheduled start time of the fixture. The pre-game 'show' usually starts approx 8 minutes before the start time, this is where the lights go out and it's almost time for the action to begin! Get ready for an exciting impact video on the big screen alongside music and our match night host readying the waiting fans!
WHERE TO SIT – There's no doubt the 'Storm Shelter' is a unique venue to witness the fast and furious sport that is ice hockey, we'll try and help you pick the perfect spot for your first visit. The majority of our season ticket holders reside in Blocks 104 or 114, which are the two most central blocks in the arena – should you choose to sit in Blocks 104 or 114, our season ticket holders will make you feel more than at home. If singing and chanting is your thing, you'll be best suited to Blocks 109 or 113 – help bring the noise inside the 'Storm Shelter' on game nights! We also utilise Blocks 101, 102 and occasionally Block 103 for our community groups. We're planning to increase our presence in the community this season and if you're a school, junior sports club or community group that would like to join us on game nights or even have a visit from our playing squad, please contact community@storm-office.com for more information! The blocks for visiting fans are Block 116 & 117 (highlighted red).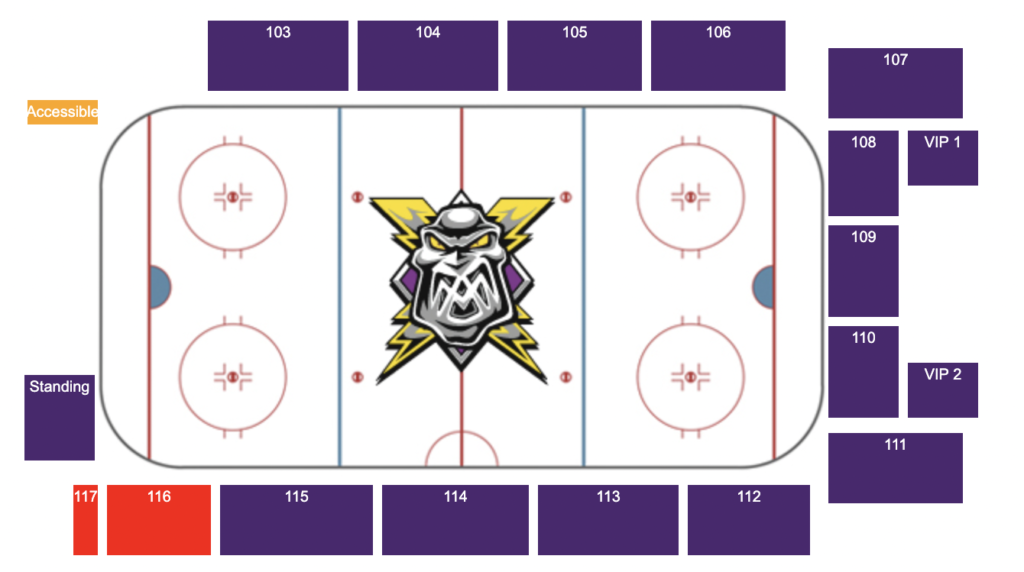 MERCH – You can find our latest 23-24 season jerseys alongside a full range of merch online at the Official Storm Store HERE – There is also a merch store located inside the arena on the ground level under Blocks 110/111 that is open on all Manchester Storm match nights.
PLANET ICE FACILITIES – As we hire Planet Ice, Altrincham and turn it into the 'Storm Shelter' for our fixtures, we'll give you a brief run-down of the facilities and what to expect inside the venue. If you're looking for a bite to eat before or during the game, there is a main cafe which is located on ground level below Block 113/114 – the cafe serves hot drinks and food such as burgers, chips and hot dogs. There is also a smaller cafe located on ground level under Block 112 which serves food such as pizzas and nachos – perfect for a game night snack!
TOILETS – The toilets are located on both sides of the venue, both male and female toilets are located on ground level under Block 104/105 and also in the corner on ground level under Block 111.
JACKS BAR – You can find 'Jacks Bar' located on ground level under Block 114/115 – this serves hot drinks, cold beverages and alcoholic drinks. With fans meeting up with friends ahead of the game, music being played and the build up to the fixture on the screens inside the bar, this is a great place to spend your pre-game before the build up to the show starts, usually around 8 minutes before the scheduled start time.
ACCESSIBLE AREA – Planet Ice have an accessible area directly opposite Blocks 108, 109 & 110. For more information please call the venue on 0161-926-8782. Tickets can be secured online HERE
ELITE LEAGUE – Manchester Storm play in the EIHL which is the highest tier of ice hockey in the UK. You can check out the website HERE for all the news, stats, league table and more! Each season there are three trophies available, the league title, the challenge cup title and the playoff title. You can learn a little more about the Elite League playoff format HERE
STORM JUNIOR ACADEMY – Manchester Storm are proud to have an ever growing junior academy project. Find more information on our very own Manchester Storm Academy HERE! Learn to skate, learn to play and join a team!
23-24 SEASON SQUAD – The 23-24 season squad coached by former Storm goaltender Matt Ginn has a fresh look ahead of the upcoming season. You can check out the full squad and dive deep into their careers HERE – Could this be Manchester Storms most successful season yet? Find out this September!
SOCIAL MEDIA – Follow all of our social media channels for all the latest content HERE and don't forget to sign up to our official newsletter to get all the latest updates and game day reminders direct to your inbox.
Following an incredible 22-23 season and with a 40% rise in season ticket uptake, we're anticipating capacity crowds throughout the 23-24 season so please book your tickets in advance to avoid disappointment. You can purchase tickets online HERE or by calling the Planet Ice Box Office on 0161-926-8782
We look forward to seeing you inside the 'Storm Shelter', Manchester!