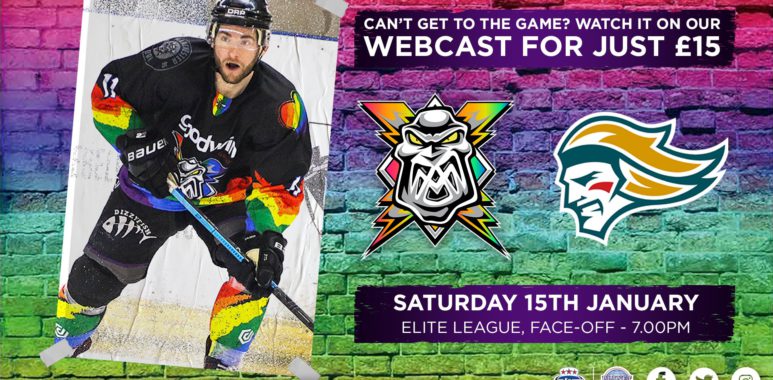 Latest News
Match Previews
Preview: Pride game against Belfast Giants tonight
Manchester Storm vs Belfast Giants – Saturday 15th January 2022 @19:00 – Planet Ice Altrincham
Manchester Storm are delighted to welcome you to the second annual EIHL Pride themed game at the Storm Shelter. Storm will chase EIHL points this Saturday on home ice against visitors, Belfast Giants. 
One of the UK's leading LGBTQ+ charities, Manchester Pride will team up with Manchester Storm once again for this fantastic event. Read more here. 
For more information on Manchester Pride visit their website here.
Doors open at 18:00 for a 19:00 faceoff. Tickets can be purchased online here. Alternatively you can book via phone by calling 0161-926-8782 or book in person at the box office. 
View Manchester Storm fixtures for the 2021/22 season here. Please be aware some fixtures may change due to covid protocol and keep an eye out on social media for our rescheduled fixtures.
PRIDE JERSEYS
The Storm will take to the ice this Saturday representing specially designed pride jerseys.
We want to see a very colourful rink for this game and pride colours and previous season's pride jerseys are encouraged.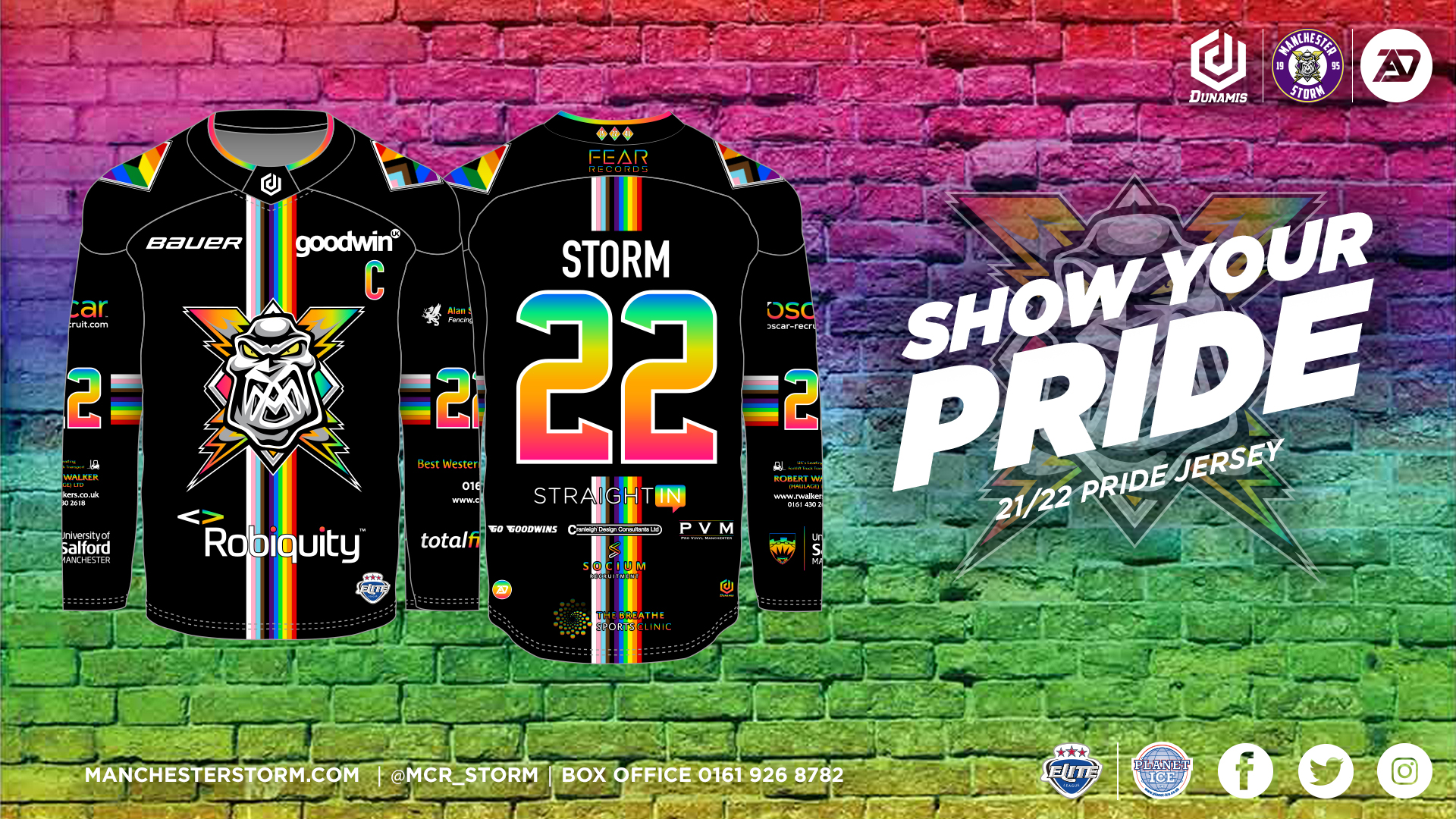 THE VISITORS
Belfast Giants sit at 3rd place in the league. Expect a competitive game as both teams meet once more.
The last time both teams met at the Storm Shelter was October 2021, the final result 3-0 to Storm.
Webcast
If you can't make Saturday's game, get the webcast via Storm TV here. 
TEAM NEWS
With Ginn out of the lineup after reaggravating a previous injury, Bacashihua is back in the goaltending lineup.
Ben Wilson was injured in last Saturday's fixture against the Devils and is awaiting scan results.
COVID-19
Face masks and coverings will now be required in the Storm Shelter. Those who are exempt must provide proof at match night entrances.
50/50 AND SHIRT OFF THE BACK RAFFLE
This weekend you can win Adam Brady's game worn pride themed jersey for just £1 a ticket. Enter here for a chance to win. 
50/50 is now operating as cash only and you can buy tickets from match night stewards and the Storm Support desk.
STORM SPORTS
Storm Sports Store will be open an hour before the game and during intermissions. There will be a variety of pride themed merchandise available.
Can't make the game? See what's available via Storm Sport's website here. 
STORM SUPPORT STICK RAFFLE
Storm Support's stick raffle is back for one night only on Pride Night! The runner up will also win a Storm pride jersey.
You can also purchase Storm merch such as pucks, and buy 50/50 tickets and your chuck a pucks.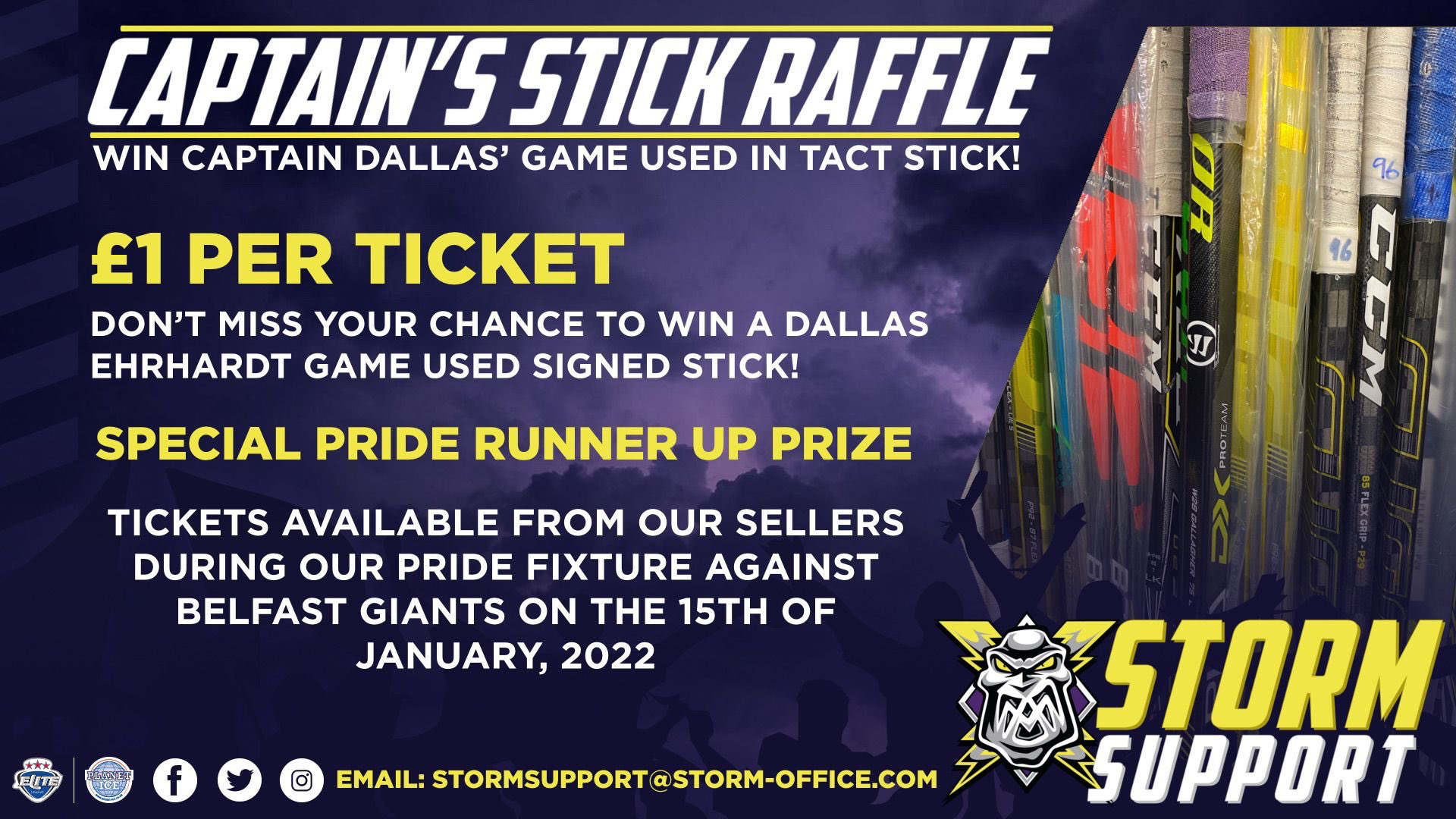 If you've never visited the 'Storm Shelter' before and want to know how to find us, please visit the Planet Ice, Altrincham website HERE – see 'find us' section.
– Doors open 6PM
– Face-off is 7PM
– Tickets from £9 
– Family tickets available 
– Train & tram links adjacent to venue
– Car parking available (Free after 6PM) 
 #WeAreStorm | #Manchester