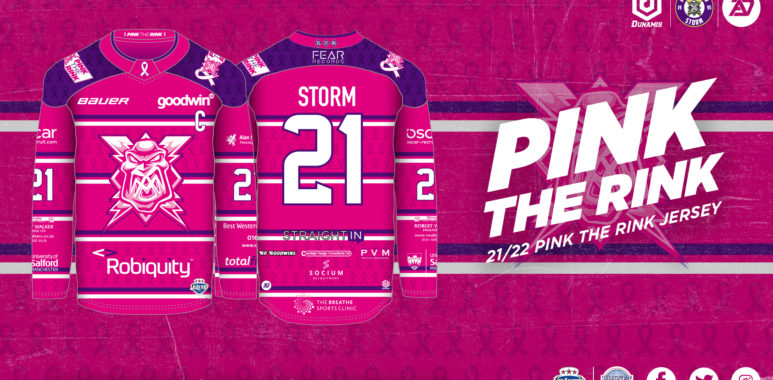 PINK THE RINK THIS SATURDAY AS BATTLE FOR THE PLAYOFFS CONTINUES!
The Storm face Fife Flyers on Saturday for our annual Pink the Rink game before heading over to Sheffield for a 16:00 faceoff against the Steelers on 27th March.
Manchester Storm vs Fife Flyers – Saturday 26th March 2022 @ 7PM – Planet Ice Altrincham
Join us in the Storm Shelter as the club hosts its annual Pink the Rink fixture! Doors open 6PM on Saturday 26th March with the fixture starting at 7PM! Tickets for the fixture can be found online HERE, by calling 0161-926-8782 or in person at the Planet Ice Box Office!
For this fantastic event, the club will partner with Prevent Breast Cancer once again and help raise awareness and funds throughout the evening.
Visit the Prevent Breast Cancer website for more information HERE.
Due to covid restrictions and no 20/21 season, this is the first time we have held such a special event since February 2020. Let's pack the shelter and make it one to remember.
Visitors, Fife Flyers will make their way to the Storm Shelter for the final meeting with Storm this season. There are crucial EIHL points up for grabs, as Manchester push for an Elite League playoff spot.
Tickets can be purchased online HERE. Alternatively you can book by calling 0161-926-8782 or book in person at the box office.
Doors open at 18:00 for a 19:00 faceoff.
WHAT IS PINK THE RINK?
Each year, Altrincham hosts Paint Altrincham Pink and this year is no different, with the theme running 21st March until 3rd April 2022. Businesses in Altrincham get involved and hold a range of fundraising events, all with a pink theme.
Visit the website for more information HERE.
Previous years have been a success, with money raised for cancer charities such as The Christie NHS Foundation Trust and Prevent Breast Cancer.
LIVE-STREAM
If you can't make the game this Saturday get the live-stream via Storm TV HERE
JERSEYS
Manchester Storm will take to the ice in special 'Pink The Rink' jerseys this Saturday evening as we raise funds for Prevent Breast Cancer. The game-worn jerseys will be available to purchase on Sunday via the official Storm Sports Store on a first come, first serve basis. There will also be a small number of jerseys being kept and signed for raffles during the remainder of the 2021/22 Elite League season. More news to come!
.
TEAM NEWS
After his hat-trick on Sunday, Storm forward Adam Brady has moved into 3rd place in the EIHL players stats with 55 points including 21 goals and 34 assists.
FIFTY-FIFTY & SHIRT OFF THE BACK RAFFLE
This weekend you can win a signed and game-worn Adam Brady jersey. Tickets are just £1 and available HERE! The winner will be chosen 9PM Sunday.
If you would like to get involved in this weekends 'Fifty-Fifty raffle, there will be a team of sellers from 'Storm Support' making their way around the Storm Shelter throughout the evening on Saturday. The winner will receive 50% of the final number and 50% will go back to help with the running of the club.
STORM SPORTS MERCH
Grab some official Pink The Rink merchandise at Saturday's game. The Storm Sports Store will be open an hour before the game and during intermissions.
Can't make the game? See what's available via Storm Sport's website HERE. 
HOW TO FIND US
If you've never visited the 'Storm Shelter' before and want to know how to find us, please visit the Planet Ice, Altrincham website HERE – see 'find us' section.
– Faceoff 7PM
– Tickets from £9 
– Family tickets available 
– Train & tram links adjacent to venue
– Car parking available (Free after 6PM) 
#WeAreStorm | #Manchester