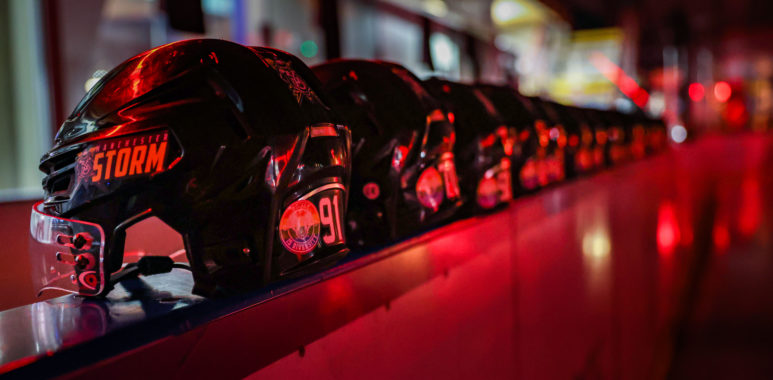 STORM MAKE HEROIC COMEBACK TO SECURE POINT AGAINST LEAGUE LEADERS
A heroic final period effort saw the Storm fall just short against Belfast Giants, as they narrowly missed out on four consecutive league victories, losing in overtime 6-5.
Some good early pressure by the Storm was rewarded in the 5th minute, as Adam Brady took full advantage of a screened Jackson Whistle – in the Giants net. However, the title-chasing Northern Irish outfit responded quickly and decisively with former Storm forward Ciaran Long sniping beyond Bacashihua to give the Giants the lead – after Sam Ruopp had drawn level in the 13th minute.
A flat middle period by the Storm was dominated from start to finish by Belfast, as a deft touch by Slater Doggett, in the 22nd minute, doubled the visitors lead; this early marker evidently titled the ice for the remainder of the period – in the direction of the Giants. Moments later, a big rebound was converted by Lewis Hook to further extend the Belfast outfits advantage. Before the end of the period, Long secured his second, via an easy tap-in, thanks to a man coverage breakdown in the Storm's defensive zone. The 5-1 scoreline, after two periods, was arguably a fair reflection as the shot-count was 23:15, in favour of the Giants. An unbelievable team performance in the final stanza saw the Storm erase a four-goal deficit to draw level after three periods of play. A second Adam Brady goal, on the powerplay, in the 53rd minute set the ball rolling for the hosts to potentially get something from the game. Cameron Critchlow's goal, on the rebound, was quickly followed-up by Brady completing his hat-trick inside 50 minutes, and with it the Shelter's infamous atmosphere quickly re-emerged.
The game would be tied at 5 apiece courtesy of a net-crashing Linden Springer, in the 52nd minute. An enthralling final period would rightly spill into overtime, as both line-ups continued to go full tilt. Unfortunately for the hosts, a poorly timed line-change enabled Mark Cooper enough space to fire into the roof of the net to ensure the Giants would take the two points.