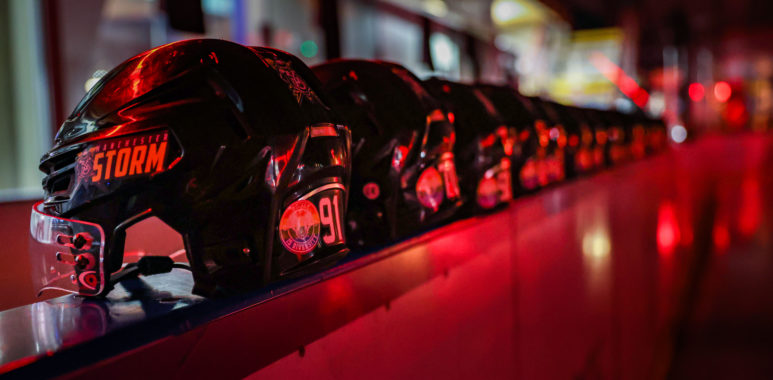 STORM DEFEAT BLAZE INSIDE STORM SHELTER AS PLAYOFF PUSH CONTINUES
A solid all-round team performance from the Storm would see them continue their recent good form against the Blaze, taking the 4-1 victory.
An evenly fought first period appeared to be heading into the first intermission goalless, until a deflected shot by Critchlow evaded Motte in the Blaze net. The first Storm goal evidently lifted the home bench and with 37 seconds remaining in the period, the hosts came close to doubling their advantage.
The second was another tight period which saw both sets of attackers kept largely to the outside for the majority of the middle period. However, a defensive breakdown by the Storm forced Bacashihua into action and his excellent save, in the 29th minute, helped maintain the hosts slender advantage. In almost identical fashion to the opening period, the hosts doubled their lead through Frankie Melton in the final minute of the period – after some confusion between the skaters and officials.
A netfront scramble won by Luke Ferrara, in the 43rd minute, would slash the hosts lead in half and set-up a tense final period in the process. Although, tight forechecking pressure by both teams continued to keep offensive scoring opportunities to a minimum. Until a spectacular solo effort by Scott Simmonds found the top corner, in the 57th minute, to relieve the palpable tension within the Shelter. A complete defensive mix-up by the visiting Blaze afforded Storm's top scorer Adam Brady time to pick his spot just 53 seconds later. A three-goal lead with just over two minutes remaining all but assured the points would be staying in Manchester.