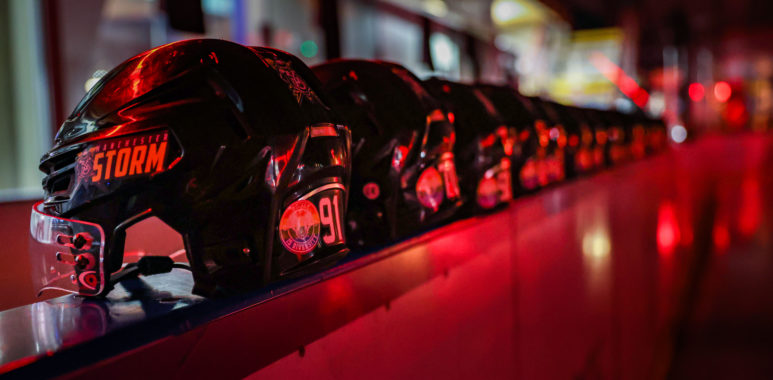 Latest News
Match Previews
PREVIEW: Storm chase playoff spot with two games this weekend
Competition began this week for Storm when they won in Coventry on Wednesday 16th March. Noah Delmas scored the game winning goal in a thrilling penalty shootout, with Melton also picking up a goal in regular time. Read the report here. 
Expect action packed home games against the Blaze and Giants on 18th and 20th March.
Manchester Storm vs Coventry Blaze – Friday 18th March 2022 @19:30 – Planet Ice Altrincham
With just a matter of weeks remaining in the season, it's an important weekend coming up for the Manchester Storm in the hunt to secure a 2021/22 Elite League playoff spot.
There are now only seven home games remaining and Storm look to secure a place in the top eight in the fight for playoffs.
The Storm face Blaze for the final time this season on Saturday.
Tickets can be purchased online here. Alternatively you can book by calling 0161-926-8782 or book in person at the box office. 
Doors open at 18:30 for a 19:30 faceoff. 
Manchester Storm vs Belfast Giants – Sunday 20th March 2022 @17:30 – Planet Ice Altrincham
The Storm are back in action this Sunday at home against visitors and current league leaders, the Belfast Giants. This fixture will also be the last time the two sides meet this season. Expect an exciting game as Storm chase playoff points, whilst Giants look to remain at the top of the leaderboard.
Doors open at 16:30 for a 17:30 faceoff.
WEBCAST
If you can't make the game this weekend get the webcast via Storm TV here.
TEAM NEWS
Adam Brady sits in 6th place in the top EIHL stats with 48 points, including 17 goals and 31 assists. 
50/50 AND JERSEY RAFFLE
This weekend you can win a signed Matt Ginn jersey. Enter here, tickets are just £1.
50/50 competition operates as cash only and you can buy tickets from match night stewards and the Storm Support desk.
STORM SPORTS
Storm Sports Store will be open an hour before the game and during intermissions. Newest merchandise includes coats and a fantastic range of 'Hero Prints' by Andrew Duxbury Design.
Can't make the game? See what's available via Storm Sport's website here. 
STORM SUPPORT
Join the Supporters Club under block 112/113. Here you can purchase Storm merchandise, 50/50 tickets and your pucks for the chuck a puck competition. Tickets for the End of Season Awards are also available now.
HOW TO FIND US
If you've never visited the 'Storm Shelter' before and want to know how to find us, please visit the Planet Ice, Altrincham website HERE – see 'find us' section.
– Tickets from £9 
– Family tickets available 
– Train & tram links adjacent to venue
– Car parking available (Free after 6PM) 
#WeAreStorm | #Manchester