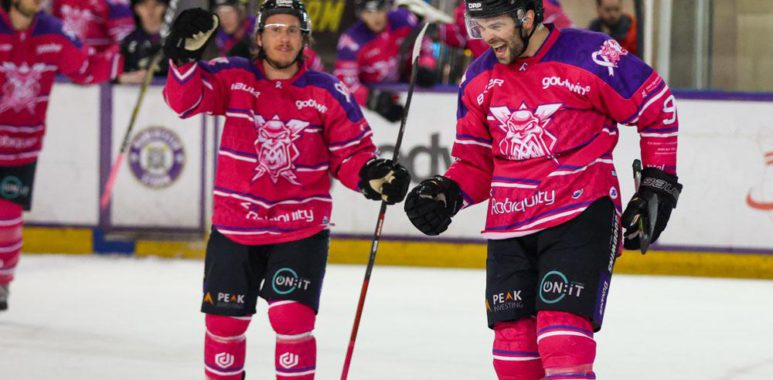 PLAYOFF PUSH CONTINUES AS STORM BEAT FLYERS!
An excellent team effort by the Storm saw them secure a vital 4-1 victory against fellow play-off chasers, Fife Flyers.
Despite some good initial pressure by the Storm, it would be the visitors that troubled the scorers' desk first. A puck battle won by the Flyers, behind the Storm goal, enabled Bari McKenzie to fire the loose puck between the pads of Bacashihua – in the 9th minute. However, an odd-angled shot by Tyson Fawcett just over one minute later would bring the hosts quickly level. The remaining minutes of the first period were mostly dominated by the hosts, but they were eventually to find another way beyond Shane Owen.
Eventually, the mounting pressure, in the middle period, would result in a second Storm goal. The club's leading markersmen, Adam Brady, effectively wound up a heavy slapshot to launch the puck into the top corner – courtesy of a clever face-off play. A late powerplay opportunity awarded to the hosts, for too many men, was expertly converted by captain Dallas Ehrhardt. The defenceman was able to skate onto a puck near the blueline and snap a wristshot into the Flyers net – with only six seconds remaining in the stanza.
The final period of play would get off to an ideal start when Hamilton sniped the puck into the top corner, in the 42nd minute, after his linemates Simmonds and Gulliver had combined to good effect. The 4-1 scoreline, in favour of Manchester, would somehow persist, as the Flyers netminder thwarted multiple grade A scoring opportunities to prevent the scoreline from becoming too lopsided.