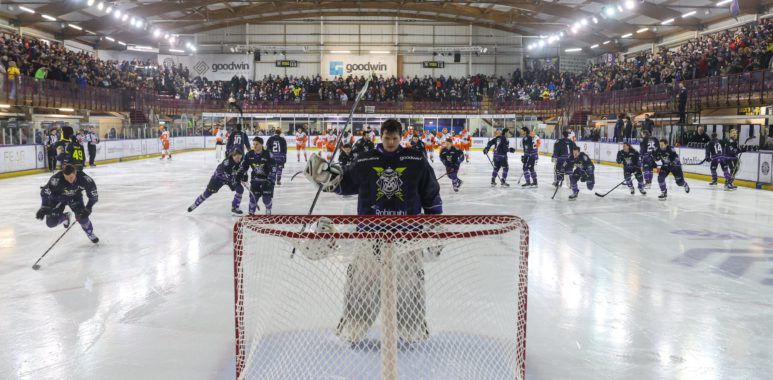 SKATE WITH STORM THIS SATURDAY INSIDE STORM THE SHELTER!
Manchester Storm are delighted to announce the return of Skate With The Storm this Saturday (2nd April) inside the Storm Shelter!
First up, Head Coach Ryan Finnerty is inviting all Manchester Storm fans to an open practice on Saturday which will run from 4:15PM – 5:30PM. Once this concludes, the Skate With The Storm will commence from 5.30PM-6.30PM.
The Planet Ice Bar will be open for snacks & beverages from 4PM until late.
This is a great opportunity to meet your favourite Manchester Storm players and get that special piece of merchandise signed and of course, get a selfie with the squad before Sundays crunch clash with the Sheffield Steelers.
For all those who can make it on Saturday, there will also be an opportunity for Own & Loan jersey collection along with a photograph with your chosen player! For all Own & Loaners who cannot make it this Saturday, there will be another opportunity for this.
The Skate With The Storm is cost free for anyone who has their own skates. There is a £3 charge for anyone who requires to rent skates from Planet Ice Skate Hire. 
Liam Hesketh (Ticket Sales & Marketing) & Luke Barber (Season Tickets) will be on hand to register interest for those looking to renew and receive the latest ST news as soon as it's available. Any fans who are not a current holder but would like to express an interest are also welcome to come and ask any questions ahead of the 2022/23 Elite League season.
Match Night DJ John Ardolino will be playing music from 5.30PM-6.30PM during the Skate With The Storm
Chris Bailey (Commercial) will be available to discuss commercial ventures for the 2022/23 Elite League season throughout the event.
Storm Support will have a pop up stand during the event for anyone wishing to express an interest in signing up to Storm Support , event information and merchandise.
We can't wait to welcome you all to the Storm Shelter this Saturday, Manchester! 
Event Details-
Doors Open: 4PM
Open Practice: 4.15PM-5.30PM
Skate With The Storm: 5.30PM-6.30PM 
Own & Loan Presentations: 5.30PM-6.30PM
Bar Open: 4PM-LATE
Entry: FREE
Skate Hire: £3