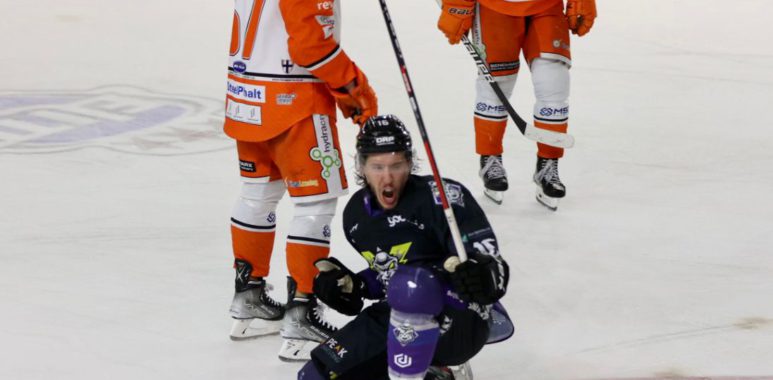 HUGE HOME WIN FOR STORM AGAINST TITLE CHALLENGERS STEELERS!
A huge home win for the Storm saw them best rivals Sheffield Steelers, 4-3 after penalty shots, in a hugely entertaining encounter.
The bumper crowd that assembled at the Shelter, were treated to an exciting opening period. After just under eight minutes, the hosts would get onto the scoreboard. Following some excellent work from Melton, top scorer Brady slotted home his 24th of the league campaign, past the difficult to beat Stojanovic. Five minutes later, a brawl between Springer and Ellerby resulted in the former being ejected from the game, for kicking. The multiple penalties racked up by the Storm were eventually punished by the Steelers, as Vallerand and Sointu turned the game in the visitors favour – before the first intermission.
The 2-1 lead for Sheffield persisted all the way through the middle period; despite, several good scoring opportunities being fashioned by both line-ups. Excellent glove saves by Bacashihua and Stojanovic, against Vallerand and Melton, were perhaps the standout moments in an otherwise tense second stanza.
A relentless forechecking effort by the Storm pinned the Steelers in their zone for large parts of the final period. Eventually, a powerplay opportunity presented itself to Manchester and the hosts gleefully converted the chance. The impressive Melton was credited with the goal, as a backdoor tap-in just crept over the line, in the 48th minute. Unfortunately, the Yorkshire-based would make it a trio of powerplay markers, as Dowd's powerful slapshot burst through the body Bacashihua to restore their slender advantage. However, the play-off hopeful Storm would refuse to give-up and an expertly deflected tip by Fawcett squared the pulsating encounter with under five minutes remaining.
An enthralling overtime period was not enough to break the two fierce rivals. It would take Noah Delmas, on the 14th penalty shot, to deke Stojanovic to take the deserved victory for the hosts.