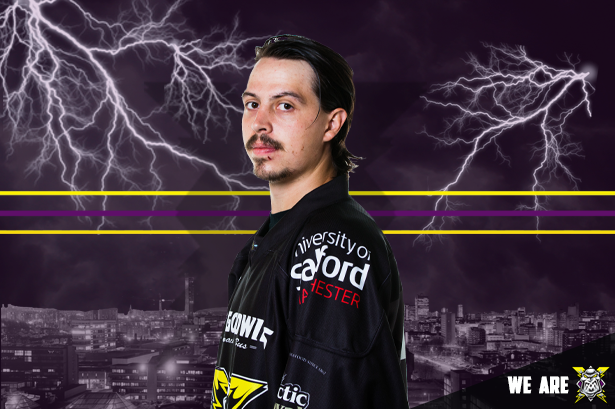 Dallas Ehrhardt Returns To The Storm!
SEASON TICKETS: The Go Goodwin's Manchester Storm are pleased to announce that season tickets for the 2017/18 Elite Ice Hockey League season are now available to purchase. Season Tickets can be ordered online by clicking here, by calling the box office on 0161 926 8782, or in person at the box office.
The Go Goodwin's Manchester Storm are delighted to welcome back fan favourite, Dallas Ehrhardt, for a second season at the Storm Shelter.
The 24 year old, 6″4, 225lbs stay at home D man totalled 9 points and 77 penalty minutes last season.
Storm GM, Neil Russell, was delighted to see the return of the Calgary native;
"When we brought Dallas in late last summer, we weren't fully sure what we were going to get if the truth be told. Needless to say he soon became a favourite with everyone at the club. He goes about his business in an understated manner, but he was highly respected by all his team mates as someone who was willing to go above and beyond. He won't allow anyone to take liberties on the ice either, as we saw with some great tilts at the Storm Shelter last season. Dallas is a great pro, low maintenance and someone who was a key priority for us to get back for this upcoming season. I'm delighted to see the big guy back again, I know Ryan is really looking forward to working with him too."
Storm Coach, Ryan Finnerty, had the following to say about the return of Ehrhardt;
"Dallas was someone that stood out to me last season when the Storm and Clan played against each other. All the reports I've heard about him as a player and person are very positive too. He competes hard every night, clears the net, holds opposition players to account, and was rock steady on the back end last season for the Storm. I am really looking forward to working closely with him."
Coach Finnerty is working day and night on the recruitment front, and is very happy with how things are progressing,
"I like to take my time, get a lot of references on guys that I've earmarked as potential signings, so it's definitely a patience game a lot of the time. I think we've shown our intent early doors here with the signings of Rosehill and Ehrhardt, we're going to be big and physical as a team, really tough to play against, but we will have the right mix of skill and speed too. One thing is for certain, we will play the game the right way and will be an exciting team for all Storm fans to watch.
If any businesses or individuals would be keen to learn about a fantastic "full player sponsorship" for Dallas Ehrhardt, please email gg@storm-office.com for more information!
"Own & Loan" sponsorships will begin next week for all signings that have been announced to date, so keep an eye out on our website and social media for times and dates!
A quick video from Dallas himself: