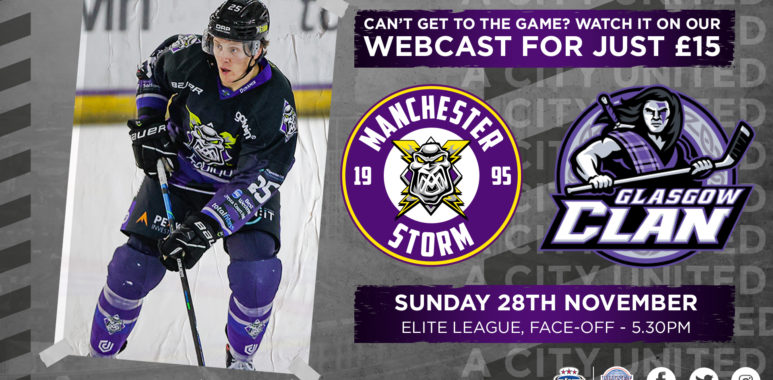 WEEKEND PREVIEW | STORM TAKE ON SCOTTISH DUO
Dundee Stars vs Manchester Storm – Saturday 27th November @ 7PM – Dundee Ice Arena
The Storm travel to Dundee to chase league points against the Dundee Stars. Dundee currently sit 9th in the EIHL table with just three points in eleven games played. The last time the two sides met, Storm came out on top, the final score 4-3. Manchester have a great home record against Dundee, can Ryan Finnerty take his men North of the border and secure an away win and kick-start some form on the road?
If you're not making the trip you can purchase the webcast HERE.
Manchester Storm vs Glasgow Clan – Sunday 28th November @ 5.30PM – Planet Ice Altrincham
On Sunday the Manchester Storm welcome visitors, Glasgow Clan this Sunday for the first time this season.
After winning the last 3 fixtures on home ice, the club go into the tie confident of picking up points despite poor form on the road.
Doors open at 4.30PM, for a 5.30PM face-off. Your seats can be secured online HERE, by calling 0161-926-8782 or in person at the Planet Ice Box Office!
Tickets for the fixture available HERE
Live-stream available HERE
Expect a busy one as Manchester look to continue their home form and make it 4 wins from 4 played at the Storm Shelter.
Glasgow Clan currently sit 10th in the Elite League table, with 2 points from 3 games played (Delayed start to their 2021/22 campaign).

TEAM NEWS
Manchester Storm forward Adam Brady is currently the league leader in point scoring with 14 points in 12 games, including seven goals and seven assists.
Following closely are Brodie Reid from Cardiff Devils and Ian Watters from Guildford Flames.
Adam is also second in goal-scoring in the EIHL with his seven goals, only Brodie Reid has scored more, with a tally of 10.
Can Adam take the top spot this weekend?
FIXTURES | MATCH NIGHTS 
For ticket prices, match night entrances and more, read about what to expect on match nights HERE.
View Manchester Storm fixtures for the upcoming 2021/22 season HERE.
LIVE-STREAM
If you can't make the games this weekend you can buy the live-stream via Storm TV HERE.
FIFTY-FIFTY | JERSEY RAFFLE
The Fifty-Fifty raffle returns 'in-house' this Sunday at the Storm Shelter! Members of Storm Support will be taking cash on the night, with the winner announce by match night host Aden Millen during the fixture.
In this weeks online jersey raffle, you can win a game-worn Tyson Fawcett Remembrance jersey! Tickets are just £1 and can be purchased HERE
STORM SPORTS
The Storm Sports Store will be open an hour before the game and during intermissions. Storm Sports sells a variety of Manchester Storm merchandise and hockey equipment. You can also check out their online store HERE
Tickets for the fixture available HERE
Live-stream available HERE
HOW TO FIND US
First time heading to the 'Storm Shelter' this Sunday? Check our handy #HowToFindUs guide with all transport links and more HERE!
Don't forget, the Planet Ice Altrincham car park is FREE on Sundays!