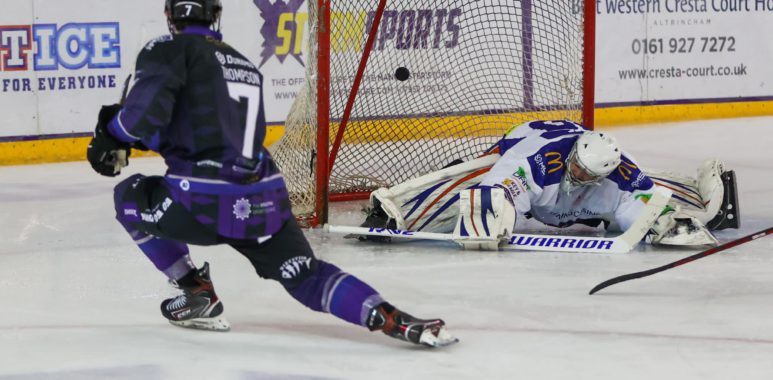 NEWS | STORM DOUSE BLAZE IN 7 GOAL THRILLER
Friday night saw the start of a three game weekend for the Storm, who welcomed the Coventry Blaze in their first regular season match up.
All eyes were on Storm's two new signings who joined the team earlier in the week. Ex NHL netminder Jason Bacashihua made his club debut between the pipes, and Austin Albrecht was added to the forward ranks.
Blaze opened the scoring midway through the first period after a defensive error deep in the Storm zone left Curran wide open to fire high above Bacashihua's glove. The uneventful period came to an end with only one goal on the board.
Storm fought back in the second stanza. A turnover on Blaze's powerplay, cost them dearly as Springer's fake shot and pass enabled Thompson to slap the puck easily beyond Motte to tie the game. The Blaze replied almost immediately on a 5on3 powerplay, Janne Kivilahti tapping in from close range, at the far post, to regain their one goal advantage.
Fawcett fired a well placed shot past the Blaze goalie to make the score two a piece heading into the break. It took only ten seconds after the restart for the Storm to take the lead when Hamilton finished with style, assisted by Brady.
Storm were afforded a long 5on3 powerplay opportunity midway through the final period w and capitalised when Simmonds slotted the puck home after a smart build up play. Blaze head coach, Danny Stewart, elected to pull his goalie with four minutes left, in an attempt to get back into the game. Critchlow took full advantage of the empty net, which sealed the win for the Storm via a shot from his own goal line.