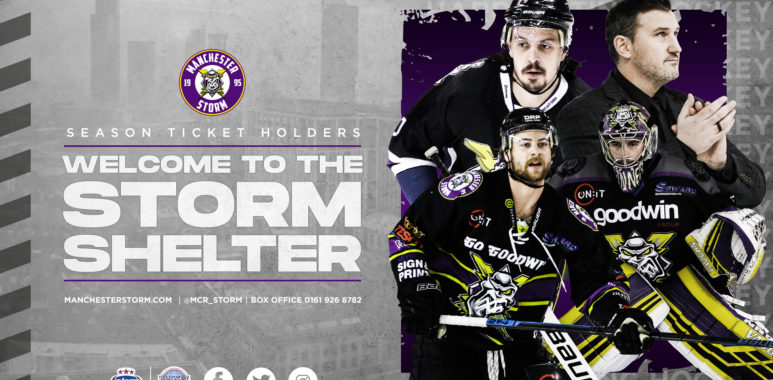 What to expect on match nights?
Tickets:
The safest way to purchase your tickets and minimize contact with others is to buy online prior to the fixture. Tickets will be emailed out to you instantly which you will then use to gain entry into the arena. You can order online via their website HERE.

If you prefer to purchase your tickets on the day of the game, the Planet Ice Box Office will be open for walk up ticket sales.
Arrival:
Doors will continue to open 1 hour prior to the scheduled face-off time for the 2021/22 Elite League season. If you arrive early, please form a queue outside of the entrance you will be entering from, please try and avoid gathering closely inside of the reception area / Planet Ice Box Office.
Sanitizing Stations:
Throughout the arena, there will be hand sanitizing stations for you to use throughout the evening and we would encourage you to do so as you make your way around the arena.

Match Night Entrances
We can't wait to welcome you back to the Storm Shelter for the 2021/22 season.
Season ticket holders will be using the entrance to the right hand side of the rink, closest to the tram station. Other entrances will be to the left of the rink and the main box office entrance for all other ticket holders.
Ticket prices for our fixtures can be found HERE

Vaccination:
There will be no requirement to provide a negative test or provide proof of vaccination to enter the arena as it is not a government requirement.
Face Coverings:
Face-masks will not be required as per government guidelines but we understand there is still some anxiety surrounding covid-19. We ask all of our visitors to be respectful of anyone wishing to wear face-coverings during our fixtures.

50/50 and Shirt off the Back raffles:
The way Storm Support run their raffles this year will be a little different. Following the success of our online only raffles throughout 2020 and to do our best to help you feel safe, Our '50/50′ and 'Shirt off the Back' Raffles will now be held online via https://raffall.com/.
There will be QR codes placed around the rink during the game, directing you to the Raffall website. If you need any help entering our competitions, be sure to ask a steward and they will be there to assist you.

The winner of our 'SOTB' will be notified by Raffall and then contacted by the club. The lucky winner will then receive the jersey in the mail.

The '50/50′ and 'Shirt off the Back' Raffles will be available to buy the week leading up to the game, so keep your eyes open on our social media channels and website!