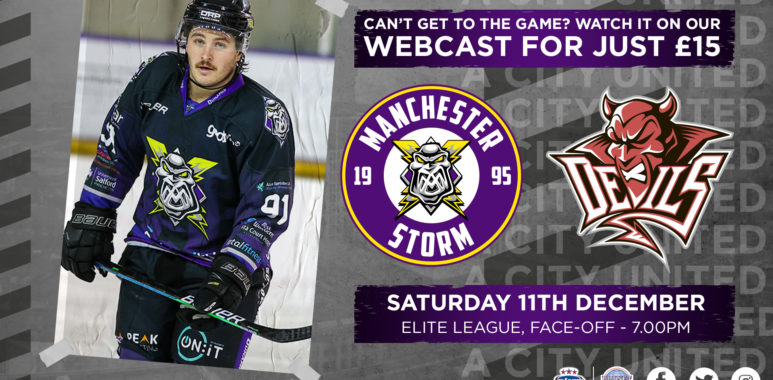 WEEKEND PREVIEW | ALL YOU NEED TO KNOW
Manchester Storm vs Cardiff Devils – Saturday 11th December @19:00 – Planet Ice Altrincham
Following last week's win against Guildford Flames, the Storm meet with Cardiff Devils in EIHL clash this Saturday. This is the first time both sides faceoff at the Storm Shelter since preseason.
Storm currently sit in 6th place in the EIHL table with 13 points, Devils sit in 3rd place with 17 points.
Doors open at 18:00 for a 19:00 faceoff. Tickets can be purchased online, by calling 0161-926-8782 or in person at the Planet Ice Box Office. Tickets can be found HERE
Fife Flyers vs Manchester Storm – Sunday 12th December @19:00 – Fife Ice Arena
Storm travel up north to Kirkaldy this Sunday to face the Flyers for the first time since October.
Michael McNicholas of Flyers also sits in the top of the EIHL leaderboard with 20 points.
TEAM NEWS
Storm forward Adam Brady currently sits in the top five of the EIHL leaderboard with a total of 17 points, including nine goals and eight assists. Just above him are Devils' forwards Justin Crandall and Brodie Reid with 18 points.
LIVE STREAM
If you can't make Saturday's game, you can purchase the live-stream HERE
FIXTURES | MATCH NIGHT
View Manchester Storm fixtures for the upcoming 2021/22 season HERE
Following discussions with Planet Ice the club have been informed that face coverings are now MANDATORY and must be worn upon entry to the stadium and throughout the fixture (unless medically exempt).
STORM SPORTS STORE
Storm Sports Store will be open an hour before the game and during intermissions. Storm Sports sells a variety of Manchester Storm merchandise and hockey equipment. The shop has plenty of options for Christmas gifts, from hoodies, to hats and smaller stocking fillers.
JERSEY RAFFLE | FIFTY-FIFTY
In this weeks online jersey raffle, you can win a Dallas Ehrhardt 'Chucky' inspired Halloween jersey from the 2021/22 Elite League season! Tickets are just £1 and can be purchased HERE. The lucky winner will be chosen at 9PM Sunday 12th December!
Tickets for Air the Bear (18th December) Boxing Day and New Year's Day games are available now!  Buy your tickets HERE or call the Box Office on 0161-926-8782.