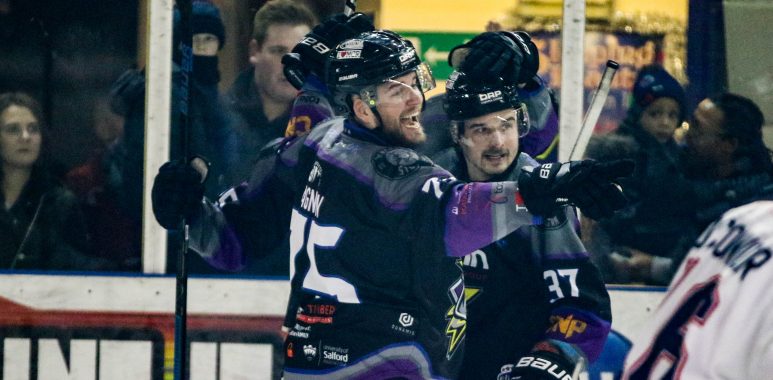 Thankyou: Official Sponsors 'Dizzyfish' donate signed jerseys back to club for auction!
Your Goodwin Group Manchester Storm would like to extend a thanks to our official sponsors 'Dizzyfish Installations' for donating back to the club TWO signed Manchester Storm jerseys from the 19/20 season. The jerseys will be put up for auction to ease the financial burden on the club due to the cancellation of the Elite League season following the Covid-19 pandemic.
The two home jerseys (#9 Jared Aulin & #75 Mathieu Gagnon) are HOME jerseys and will be available via auction later this week. We will keep you updated via our official social media channels when this is going live.
Dave & Avril (Dizzyfish) had this to say; "When Ryan Finnerty and the Manchester Storm put out the announcement of game worn jerseys to help get players home and pool funds for the running of the club, it was clear that we wanted to help, it's a drop in the ocean, but the money generated from selling these two Dizzyfish sponsored jerseys will help the club a little, we hope they go to fantastic homes and whoever they eventually end up with will be an honourable Dizzyfish member!"
Thanks once again to Dave and Avril from Dizzyfish Installations for this very kind gesture and supporting the club as official sponsors.
The jerseys will be made available via auction later this week, we will have updates on our official social media channels shortly!
#WeAreStorm | #Community | #Partnership