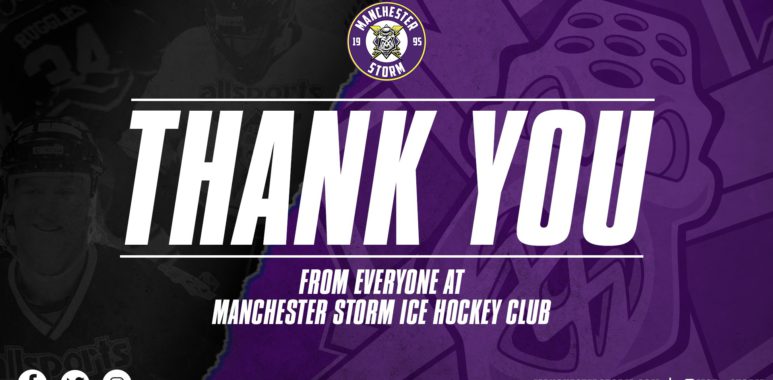 Elite series
Latest News
Uncategorized
Thankyou, from all at Manchester Storm Ice Hockey Club.
After the 19/20 Elite League season cancellation due to the global pandemic, it was a very tough and challenging 12 months for everyone. When the news broke of the #2021EliteSeries and that the club would be participating in the event, alongside Sheffield Steelers, Coventry Blaze and The Nottingham Panthers, it was a breathe of fresh air and a very welcome distraction from the challenges of the prior 12 months.

Although not the ending we had hoped for, being so close to a potential final series against The Nottingham Panthers, the club sincerely hope you enjoyed the highs.. and of course the lows, but that's all part of the sport and backing your club through thick and thin, losing is never easy, but when we win it's a sweet, sweet feeling!

We're proud to have participated in this event and proud to have held our own with the 'big boys' of the league, picking up wins over Sheffield, Nottingham and Coventry and apart from a very bad night at the office last night, being competitive throughout.

The club would like to thank all involved who were able to make this event happen and bring some form of normality back into our lives, even for only a matter of weeks. It brought back that excitement we all hold in us for this sport and now we look forward to a bigger than ever 2021/22 Elite League season together and all being well, being together in the Storm Shelter once again!

To all of our sponsors who have supported us throughout the Elite Series, thank you! Support from sponsors is integral in our sport and it's very much appreciated. We are lucky to have such a loyal core of sponsors here at the club and thanks to the effort from On:iT Sport Management, have managed to secure new sponsorship which we look forward to building a relationship with over the next few months ready for the 21/22 Elite League season. We can't wait to have you all at the Storm Shelter together so you can see, in person, what we're all about.
A special thank you has to go to our match night team for our 'Home' fixtures. Commentators Simon, Tom and Seth who stepped in to help when needed, all doing a fantastic job throughout the Series. Our official photographers, Mark, Victoria, Matt and Aaliyah who captured every special moment of the Series! To Aden our match night announcer and John our match night DJ for giving our 'Home' fixtures that home game feel, thank you!

A special thanks to our media team, including Shelly and Iain who have done a fantastic job supporting the effort over the course of the Elite Series, helping with the output on match nights and more, this really was a full team effort! A special mention for 'team support' (Ric) always on hand to help. We can't forget our in-house graphic designer, Andrew Duxbury, who has put countless hours into the club and designed our fantastic #RetroStorm jerseys!

To the coaching staff, equipment manager (Scoots), Statistician (Jonathan), physio (Tom) and medical team that have put countless hours in, inside the bubble and of course the players, thank you!
And the most important thank you goes to YOU, the fans. Without our loyal supporters, this event would not have been a success and you really bought in to this from the outset. From kit sponsorship, merchandise, jersey raffle tickets, 5050 tickets and spreading the word of the Storm and helping create that buzz, you've been absolutely phenomenal and we're lucky to have such a supportive fan base.

We can't wait to welcome you all back to the Storm Shelter for the new season. The number of season ticket applications after the conclusion of the 19/20 season and the support shown was unbelievable. Exciting times are ahead, folks. Subscribe to our official mailing list via the Manchester Storm website and keep up to date with all the latest news. Let's make this next one a special one.

– Manchester Storm Ice Hockey Club.