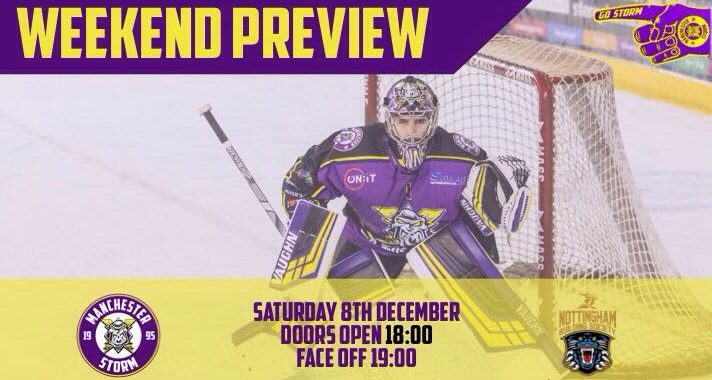 Latest News
Match Previews
WEEKEND PREVIEW: Storm Face Panthers and Clan in EIHL Action!
Tickets for Storm's upcoming game against Nottingham Panthers can be ordered online HERE, by calling the box office on 0161 926 8782, or in person at the box office.
NOTTINGHAM PANTHERS – SATURDAY 8TH DECEMBER, 19:00 FACE-OFF, PLANET ICE ALTRINCHAM
Following Tuesday's Challenge Cup game, Head Coach Ryan Finnerty has been busy working the guys hard this week in preparation for today's clash with The Panthers, as Storm look to take some more points at home.
Earlier this week, former NHL draft, Tyler Biggs announced his departure from the Panthers. Prior to this announcement, the forward iced 24 games for Panthers this season, claiming four goals and five assists.
Tonight's game is an EIHL game not Challenge cup, so season ticket holders please be reminded that this game is part of your regular season ticket.
Following the game, players will be making their way into Jack's Bar. This is a special opportunity to get some things signed before Christmas time and also get a photo with your favourite player!
MATCH NIGHT INFORMATION
Doors open Saturday 8th from 18:00pm
Face-off 19:00
There will be a 'Meet the Players' event in Jack's Bar post game.
Stick Raffle is Rob Linsmayer
Ticket information can be found here
50/50 & "Chuck A Puck" can be bought from the OSC stall, underneath block 113, and from match night sellers based around the rink
Having to miss the game in person? The webcast can be bought HERE thanks to Storm TV for £10
Join in the post game Saturday Skate! Free with own skates or £2.50 for skate hire
The Station Hotel, Storm's official pub, will be open to fans for pre-match drinks
Find the information for the rinks entrance arrangements here
GLASGOW CLAN – SUNDAY 9TH DECEMBER, 16:00 FACE-OFF, BRAEHEAD ARENA
The Storm head up to Glasgow to face the Clan for the for the first time away this season!
Visitors to this Sunday's EIHL game include Canadian rock band – Monster Truck.
If you are heading over to Braehead Arena this weekend, don't forget to take a teddy bear. The Clan are hosting their Air the Bear event, with donations going to Glasgow Children's Hospital Charity.
15-16 DECEMBER, HOME GAMES
Next weekend the club host two very special campaigns. Saturday 15th December sees the Storm host their annual Teddy Bear Toss, 19:00 face-off. On Sunday 16th, the club will be running a Hockey Fights Homelessness campaign, 17:30 face-off. Make sure you bring a teddy bear wrapped up and an item of clothing you no longer want/wear, in order to help those less fortunate this Christmas.
The Manchester Storm OSC are hosting the Storm's Christmas Party, Tuesday 18th December at Cresta Court Hotel, 19:00 – late. Email events.stormosc@gmail.com to book, or visit the OSC desk under block 113 on match nights. Check out their social media for other upcoming events!