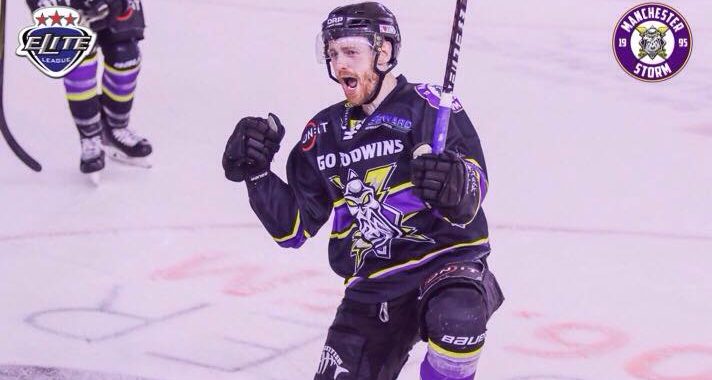 MATCH REPORT: Storm Take Two Points in Gripping Game Against Panthers!
Next weekend the Storm play two home games, as Cardiff Devils and Belfast Giants visit the Storm Shelter. The club will be hosting their annual Teddy Bear Toss and Sunday 16th, special event Hockey Fights Homelessness. Tickets can be ordered online HERE, by calling the box office on 0161 926 8782, or in person at the box office.
Last night the Nottingham Panthers returned to the Storm Shelter, after visiting only four days previously for the Challenge Cup Quarter Finals. After an unfortunate 6-1 loss, Storm had a lot to prove and show they meant business in this EIHL matchup on home ice.
It was Storm who were the first to receive a penalty, with Bakker sitting for a face-off violation at 4:15. Any chances of an early goal from Panthers were killed on a strong Storm penalty kill. It was Panthers who were next to be handed a two minute minor for having too many men on the ice at 8:45, Tvrdon sitting the penalty. Panthers held up a strong defensive fort, not giving Storm any chance for a powerplay goal. Captain, Dane Byers was next in the penalty box at 11:47, sitting for interference. It was at 17:20 that Panthers would seize the opportunity to get the first goal of the evening on the powerplay, as Richardson sat in the penalty box on behalf of Storm netminder, Ginn – who was called for tripping at 16:49. Panthers first goal was scored by Tvrdon via a wrist shot through traffic, with assists from Pither and Bolduc.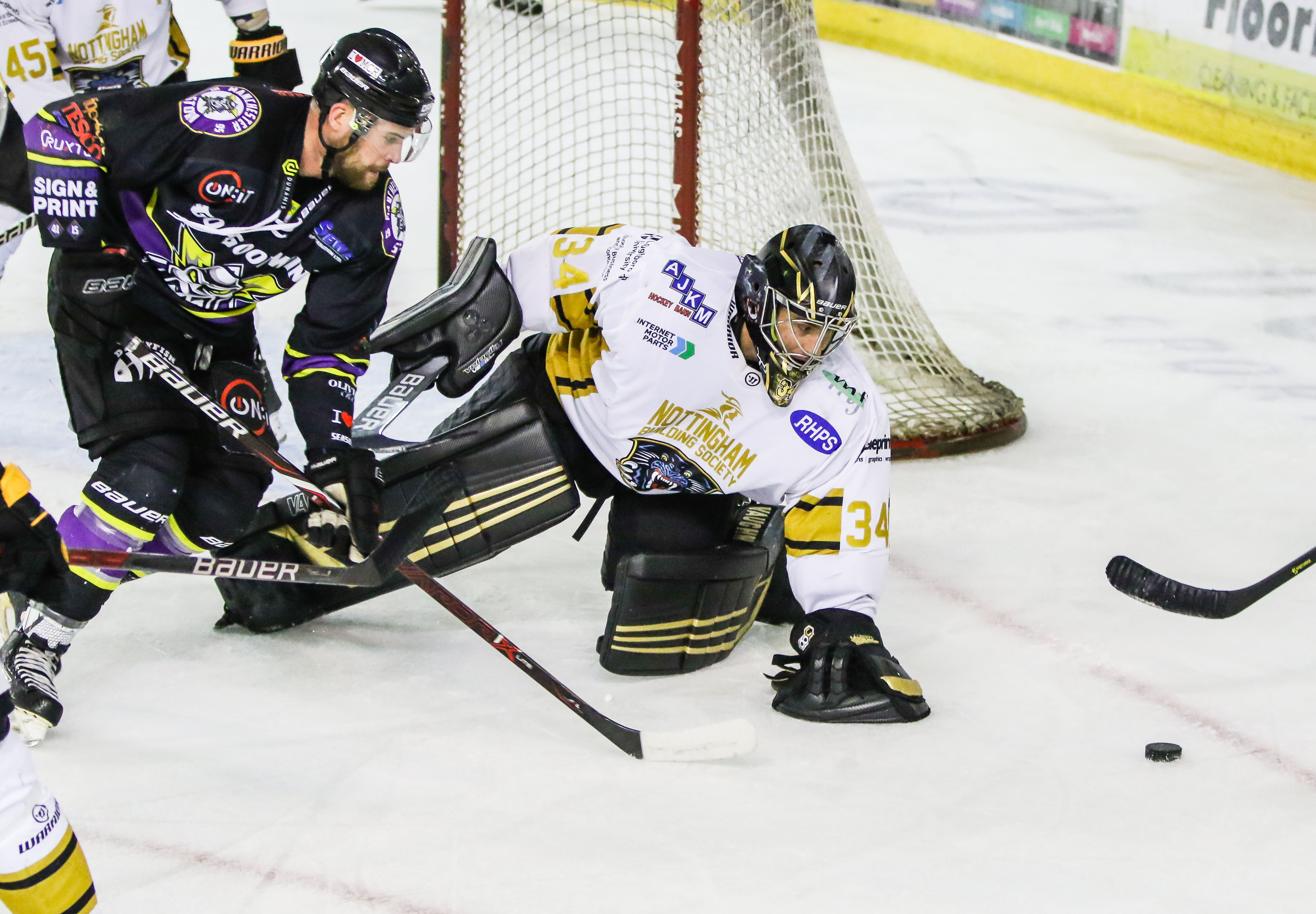 The Storm began their second period only one goal down and it was clear how determined they were to pull one back and equalise. The game was fast-paced, with both teams pushing for a goal, and recently signed Braid going hard to the net ready for the tip in.
After a few great saves from Ginn, it was Storm's turn to take another penalty at 25:16, Ruopp for tripping. It was a tense penalty kill for the Storm, and it was Ginn who helped keep any opportunities for a second Panthers goal as limited as possible, the closest it getting being the puck ringing the iron. Long even managed to get a short-handed breakaway, only to be denied by Garnett.
In the 30th minute of play, it kicked off around Ginn's net. This resulted in Balmer and Lepine each being handed five minute penalties for fighting, with Lepine given an extra 2+10 for instigating. It was convenient for Storm to try and get their first goal of the evening. The powerplay worked in their favour, as Braid went hard to the net and equalised for the Storm  tapping in a pass at 31:43, assisted by Byers and Moffatt. At 36:49 Moffatt found a scoring opportunity, sending the puck home on a rebound and taking the scoreline up by one, with the assists from Springer and Byers
At 39:47, Panthers received a penalty, Hughes sitting for tripping. This would give Storm the upper hand with a powerplay opportunity when the third period would begin. Overall, play was more physical, with Storm taking the upper hand due to the second period finishing 2-1 in their favour.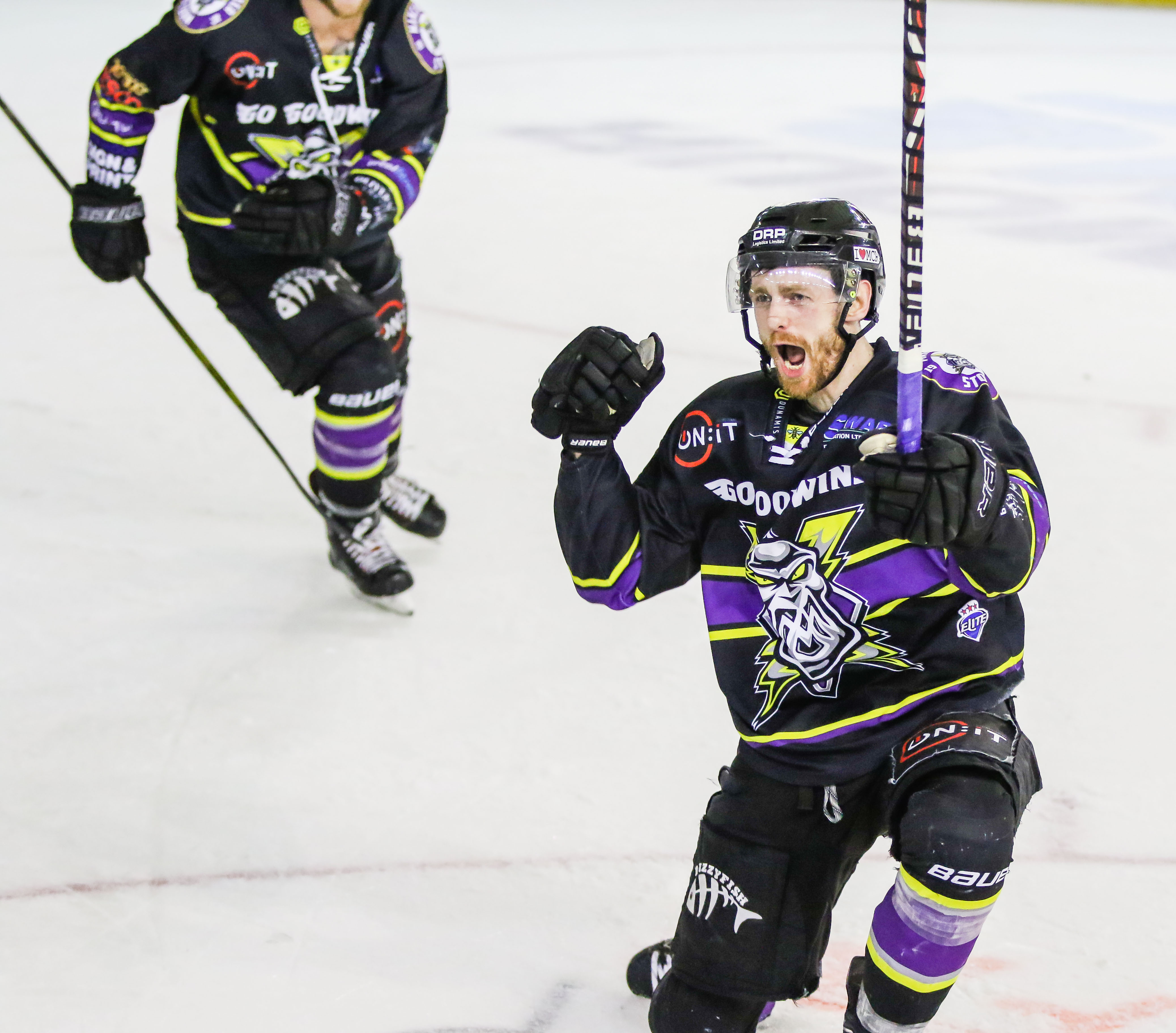 It was always going to be a tense third period being such a close scoreline. The third period was tense, Storm pushing for a two goal lead, whilst Panthers did everything they could to equalise. It was almost halfway through the final period when Panthers managed to get that goal they needed, scored by Hurtubise, assisted by Guptill and Hughes. Ginn was the most unfortunate, as what looked like a save was not to be, when the puck trickled over his pads and found a place in the net.
Springer took the only Storm penalty of the third period at 51:24 for tripping, giving Panthers a chance to apply some pressure and take the lead. However, Storm were robust, not allowing anything to get through, Ginn gloving the puck and the defence clearing it when possible. At 58:03, Panthers landed themselves in a bad situation, as Farmer took a penalty for tripping, giving Storm the advantage.
Overall, the third period was energetic, fiery and substantial, Storm knowing they absolutely had to prove that they could play the bigger teams in the league and beat them. The pressure was on as Storm didn't manage to get the scoreline up on the powerplay in the final two minutes, Panthers holding up an incredible penalty kill, resulting in both teams going to overtime at 2-2.
It was Moffatt, Byers, Stadel and Poulin who began in overtime, playing 4 on 3 hockey on the powerplay for just seconds. For two minutes it could have gone either way, as both teams pushed forward to get that game winning goal. At 63:21 it was Ciaran Long who was successful in Storm taking the two points at home, alongside Moffatt and Stadel, pushing forward around Garnett's net and hammering away at rebounds until the puck was sent home. It was a thrilling game throughout, and a massive improvement off the back of Tuesdays Challenge Cup – Storm taking the victory at 3-2.
Man of the Match for Panthers went to, #81 Luke Pither
Man of the Match for Storm went to, #1 Matt Ginn.
player of the Month went to, #91 Evan Richardson.
Shots on Goal: Michael Garnett – 31
Shots on Goal: Matt Ginn – 39
Referees: Tom Darnell and Tom Pering
Next weekend the club host two very special campaigns. Saturday 15th December sees the Storm host their annual Teddy Bear Toss, 19:00 face-off. On Sunday 16th, the club will be running a Hockey Fights Homelessness campaign, 17:30 face-off. Make sure you bring a teddy bear wrapped up and an item of clothing you no longer want/wear, in order to help those less fortunate this Christmas.
The Manchester Storm OSC are hosting the Storm's Christmas Party, Tuesday 18th December at Cresta Court Hotel, 19:00 – late. Email events.stormosc@gmail.com to book, or visit the OSC desk under block 113 on match nights. Check out their social media for other upcoming events!