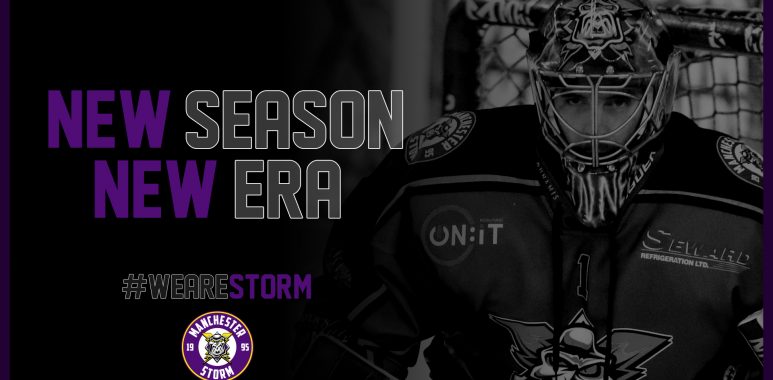 Latest News
Match Previews
MATCH PREVIEW: Storm to face the Blaze!
Tickets for Storm's upcoming EIHL game against Coventry Blaze can be ordered online HERE, or by calling the Box Office on 0161 926 8782. Face-off is at 19:00 today.
Manchester Storm v Coventry Blaze – Saturday 12th October – Planet Ice Altrincham-  F/O 19:00
This weekend sees only one game for the Manchester Storm, as they face visitors, Coventry Blaze at home. 
Last year's Skate with the Storm following our Halloween game was a huge success. The club is pleased to announce that tonight sees the first Skate with the Storm event of the 2019/20 season! Join the Storm boys for a post-game skate and share the ice with your favourite players! This event is free with your own skates, or just £2.50 for skate hire. So come and join in the fun. 
Yesterday, it was announced that defenceman Raymond Grewal unfortunately had to travel back home for a family emergency. Stepping up to the job is British defenceman and current player coach of Leeds Chiefs – Sam Zajac. Zajac iced for the club numerous times last season, and we hope you give him a huge welcome back as he ices for the Storm once again. Zajac has settled in well with his role at the Chiefs, totalling three points in five games played so far. 
Manchester Storm Official Supporters Club
Our Official Supporters Club have plenty of fantastic options for fans this season! Head over to their stall under block 113 if you are interested in our Match Night packages, including watch warmups from the bench, have a tour of the locker rooms and more. 
There's still a chance for you to whip up a jersey via own and loan this season. You can choose to own and loan your favourite players jersey, or own and loan as a gift for your loved ones. Click here for more information! The Storm boys now have brand new away warm up jerseys, courtesy of Dunamis available to own and loan too. Jerseys will then be handed over in a ceremony at the end of the season, where you can have a photo with the player and have the jersey signed should you choose to.
Name plates are also available, click here for details!
The visitors
The two teams have faced each other four times so far (two meetings during preseason.) The Blaze visit the Storm Shelter this weekend, following a 4-2 loss to the Guildford Flames and 3-1 win against Cardiff Devils. 
Finnish forward, Janne Laakkonen currently sits in 5th place on the EIHL players stats table.
MATCH NIGHT INFORMATION
Doors open Saturday 12th October at 18:00PM
Ticket information for games can be found here
Check out Storm Sports Store to get all your Storm merchandise, hockey equipment and more
This Saturday is the first Skate with the Storm event, it's free with your own skates and just £2.50 for skate hire
This Saturday, enter our weekly Shirt off the Back draw, you can win Mathieu Gagnon's jersey
This Saturday, one of Gagnon's stick is also up for grabs when you enter the stick raffle (left-handed)
Match night raffle tickets can be purchased by match night volunteers around the rink and from the OSC – who are located under block 113
Visit  the OSC stall to purchase 50/50 and Shirt off the Back tickets, also enter the match night "Chuck A Puck" competition or sign up to the Supporters Club for the season
Meeting friends before the game? Head over to the club's official pub, the Station for some pre-match drinks
If you can't make Sunday's  game, Storm TV have you covered, buy the webcast here
If you're looking at group bookings for games this season, contact liam@storm-office.com for more information
Following tonight, the Storm's next home game falls on Friday 18th October. They face visitors, Sheffield Steelers in the race to the Challenge Cup. Face-off is at 19:30. 
Tickets for Storm's upcoming EIHL game against Coventry Blaze can be ordered online HERE, or by calling the Box Office on 0161 926 8782. Face-off is at 19:00 today.