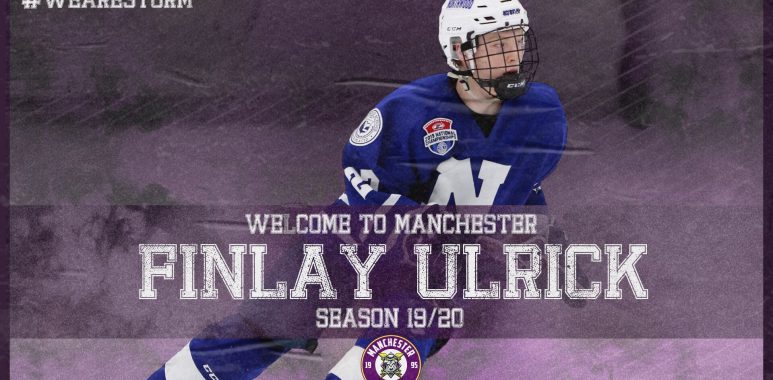 Welcome to Manchester, Finlay Ulrick!
SEASON TICKETS: The Go Goodwin's Manchester Storm are pleased to announce that season tickets for the 2019/20 Elite Ice Hockey League season are now available to purchase. Season Tickets can be ordered here. The deadline for the Early
Bird offer is Friday 31st May.
Your Go Goodwins Manchester Storm are thrilled to welcome British forward, Finlay Ulrick to the club for the 2019/20 season!
The 19-year old joins the club as a rookie to the EIHL, and is the first forward to be announced ahead of the 2019/20 campaign.
A product of youth development in Yorkshire, previous teams for the forward include: Kingston Sharks u16s team and four Sheffield teams, including Rapiers, Steelhawks and Scorpions.
The 2015-16 season was the breakout year for Ulrick, as he was awarded the 'C' for Sheffield Steelhawks u18s and tallied an impressive 73 points, including 28 goals, in just 18 games. In the same year, the young British forward topped the assists chart, with 45 helpers as the right-handed playmaker stood out from the crowd.
The right-handed forward has also iced for Great Britain u18s (2017 and 2018), claiming a gold medal and playing a part in the team's promotion to Division | Group B last year.
After spending the last three seasons icing in the USA, for Northwood School, Ulrick returns to UK soil, aiming to impress in his EIHL and professional debut.
Ulrick arrives in Manchester boasting an impressive junior career, gaining plenty of experience. He will no doubt be given the opportunity to develop his game further and flourish in Britain's top league.
Head Coach, Ryan Finnerty commented:
"We have been looking at Finlay for a while now. I am excited to be working with him and watching him develop. Finlay will be attending the University of Salford, which is great – as we continue our strong bond with the partnership."
If any businesses or individuals would be keen to learn about a fantastic "full player sponsorship" for Finlay Ulrick, please email liam@storm-office.com for more information.
Player Profile
Position: Forward
Age: 19
Shoots: Right-handed
Height: 5ft10
Read more about Ulrick on Elite Prospects here.
The Manchester Storm OSC are delighted to announce the launch for 2019/20 Own and Loan. You can find out more information here. Keep your eye on the OSC social media for more future announcements.
Words by Shelly Kiely