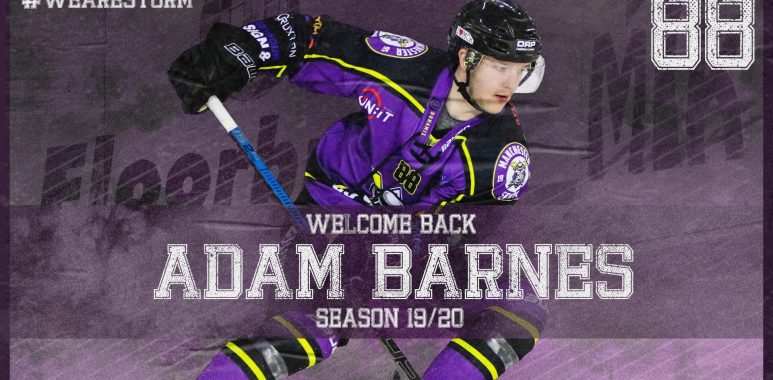 Breaking News: Adam Barnes Returns for Second Season!
SEASON TICKETS: The Go Goodwin's Manchester Storm are pleased to announce that season tickets for the 2019/20 Elite Ice Hockey League season are now available to purchase. Season Tickets can be ordered here. The deadline for the Early Bird offer is Friday 31st May 2019.
Your Go Goodwins sponsored Manchester Storm are delighted to announce the return of Adam Barnes for the upcoming 2019/20 season!
The 19 year-old British forward is returning to the Storm on a full contract, after initially joining  on a two-way deal with NIHL team, Blackburn Hawks last season.
The young forward spent two years at the Ontario Hockey Academy, claiming 85 points in 101 games.
A move to EHL outfit New England Wolves saw Barnes' stock continue raise with an impressive 37 points in 48 games and several EIHL teams were believed to be interested.
Following his stint in the EHL, Barnes returned to British soil, signing for his local team – the Manchester Storm. During his rookie season and a newcomer to the EIHL, Barnes claimed his professional goal against the Milton Keynes Lightning in late February. Towards the later stages of the 2018-2019 season, Barnes earned regular shifts and made appearances on the Storm powerplay.
During his two-way contract with the Blackburn Hawks, the young Brits points outweighed the amount of games played, totalling 22 points in 15 games – 1.46 points on average.
The left-handed, 5'10" Brit's previous teams include representing U18s GB men's team, alongside NHL drafted, Liam Kirk. Barnes also iced four seasons for Bradford Bulldogs U16 and U18 before moving to Canada to attend the Ontario Hockey Academy.
Head Coach Ryan Finnerty commented:
"Barnesy stepped up towards the end of last season, showing he can play at this level.
"We are looking for him to continue to improve and get stronger, so he can become a regular in this league. He needs to work hard this summer in the gym and be ready for training camp."
Barnes added:
"I'm very excited to be back at storm again for another season as last year the organisation and the fans made my first elite league season something to remember.
"I also hope to contribute more to the team this season."
If any businesses or individuals would be keen to learn about a fantastic "full player sponsorship" for Adam Barnes, please email liam@storm-office.com for more information!
Player Profile
Position: Forward
Age: 19 
Shoots: Left
Height: 5'10"
Weight: 170lbs
Read more about Barnes via Elite Prospects here.
The Manchester Storm OSC are delighted to announce the launch for 2019/20 Own and Loan. You can find out more information here. Keep your eye on the OSC social media for more future announcements.
Words by Shelly Kiely