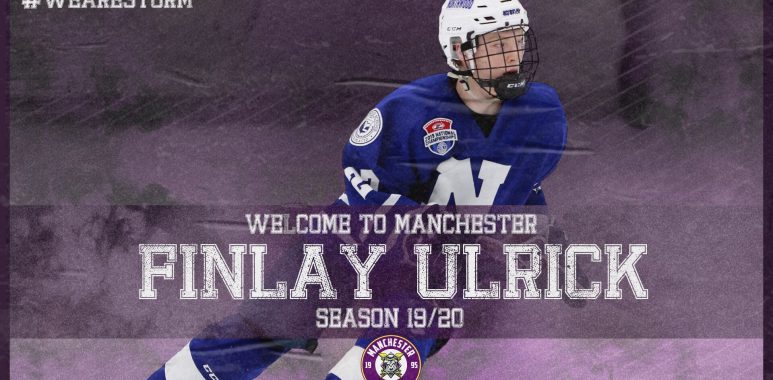 SEASON TICKETS: The Go Goodwin's Manchester Storm are pleased to announce that season tickets for the 2019/20 Elite Ice Hockey League season are now available to purchase. Season Tickets can be ordered here. The deadline for the EarlyBird offer is Friday 31st May 2019.
Prior to moving back to the UK, we interviewed new forward, Finlay Ulrick about his hockey experience so far.
How did the move to North America happen?
FU: I was playing in England and I knew that I wanted to push myself to play at another level. I decided I wanted to test myself overseas in America so I began the search for a place to go.
My Dad and I went over for a week or so and toured many different places. After discussing my options with family I decided I wanted to go play at Northwood School in Lake Placid.
The school was highly recommended by many and had a reputation for having one of the top hockey programs in America at the junior level.
How does the standard compare to British Junior hockey?
The standard in America compared to British Junior hockey is definitely a step higher. Playing on a smaller ice surface, the game is played at a much faster pace and is a lot more physical. It took a couple of weeks for me to adjust at first.
To compare, the top line of a club team in Britain is usually good, but in America they have a full team just as good, and a couple of players that are better.
Do you feel your game has benefited from playing in NA?
FU: My game has benefitted significantly from playing in America. I have improved in every aspect of my game as the standard and pace pushed me to do this. I was very lucky to play with and against many great players in my time in America so I got the chance to look at what they do that makes them great and try apply those traits to my game.
 Do you know what role you are expected to fill for the Storm?
FU: I understand that I need to earn my ice time and I am willing to do this. My game is centred around my work ethic and I am determined to be the best I can be every time I step out on the ice.
What are you looking forward to most about being back in the UK and are you already familiar with Manchester?
FU: It will be nice to be back in the UK after having three years away. I'm probably most looking forward to being able to see my family and friends often and them being able to come watch me play again.
Being away they only got to watch through a live stream so it will be nice to have them actually at the game. I have been to Manchester a few times so I'm fairly familiar, but there is a lot more to see. I'm excited to live here next year.
The Manchester Storm OSC are delighted to announce the launch for 2019/20 Own and Loan. You can find out more information here. Keep your eye on the OSC social media for more future announcements.
Words by Callum Schora & Shelly Kiely