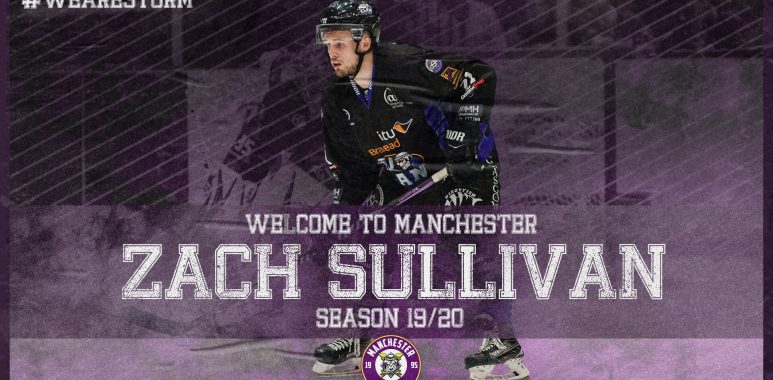 SEASON TICKETS: The Go Goodwin's Manchester Storm are pleased to announce that season tickets for the 2019/20 Elite Ice Hockey League season are now available to purchase. Season Tickets can be ordered here. The deadline for the Early Bird offer is Friday 31st May.
We caught up with the Storm's newest recruit, British defenceman, Zach Sullivan, to talk about his hockey career so far!
You entered the Elite League as a youngster from Basingstoke, how did this move come about and how was the transition?
ZS: I was playing in Basingstoke, under Doug Sheppard, and at the end of the season he asked me what I wanted to do. So, I thought it was time to see if I could crack the Elite League. I had nothing to lose really. He [Doug Sheppard] sorted a deal out with Finner, who was the coach in Braehead at the time…the deal actually came about in less than a day. I hadn't even had time to tell my parents, so it all happened really quickly.
The transition was ok as well, Finner had recruited a great team that year and I think we ended up finishing second in the league. I got quite lucky because one guy didn't arrive in time and another one was pretty injury-prone, so I was getting regular shifts and Finner kept believing in me. The only difference between the EPL and Elite League is everything happens faster and you need to be able to think quicker than you can play sometimes.
Last year you made your full international debut, with Team GB, how was it being a part of the gold medal winning squad?
ZS: It was absolutely amazing. I got lucky with Evan Mosey unfortunately getting injured in the last warm-up game and I got taken in the squad because of that really. The whole trip was just incredible and the group of guys just kept saying 'do we dare to dream' and stuff like that…we just kept winning and everyone knows what happened in that Hungary game. I don't think anybody was expecting us to win that gold medal at all.
What was it that made you pick the Storm?
ZS: Like I said before, my relationship with Finner made this decision a lot easier. He was the one that first believed in me when I went to Braehead and we worked together for three years. Our working relationship is really good, so I'm looking forward to linking back-up with him and I know he always recruits well. Finner brings good guys into the dressing room and with the disappoinment of not making the play-offs this year I know he is doing everything he can to build a stronger team.
The small-ice in Altrincham is quite unique, so how would you describe your experiences of playing in the Storm Shelter?
Obviously with the ice being so small you can't really play the same hockey as you do in other rinks. I remember Finner used to say [when coaching Glasgow] you can't hide in this rink and you can't have any passengers. I think it really suits my game though, because the small ice forces everyone to play to a certain level and you know the hits are coming. If you are scared playing on this rink, you will stand-out for all the wrong reasons. I always enjoyed playing in Manchester, it takes you back to the old school North American style and every game feels like Playoff hockey in that place…the competition level is higher and everything happens so fast.
How would you describe your game to the Storm fans?
ZS: The first thing I would say is I am a shutdown d-man. One of my aims is to try and give my partner the license to go forward and jump-up into the play. I just try and keep things simple, make the easiest pass and play, whatever is needed really for us to keep clearing that zone. The less time we spend defending the better. I just want to compliment our guys on the ice. If I, and the rest of the blueliners can keep giving the puck to the skilled forwards, we will definitely win more than we lose.
What do you know about Manchester?
ZS: If I'm being honest not much…obviously I know about City and United. Plus, I have spent a short time around the rink and with away games, but I will have plenty of time to explore the city next season.
What are your plans for the summer?
ZS: Well I'm actually heading out to New Zealand, as I have a contract with the Canterbury Red Devils and will probably be heading out in May. The opportunity came around because of a coach I knew in Solway…he has a connection with the guy out in New Zealand and he sent over my CV. I am really excited to be going to New Zealand and maybe get some travelling done, if the hockey schedule allows for that. I will be back in plenty of time for the pre-season, so I can make sure I am absolutely ready for the new season.
Do you have any last words for the Storm fans, before the new campaign starts?
ZS: I am really excited to be joining Manchester. The rink was always loud, so that is a huge bonus for me, I have always enjoyed playing in front of passionate fans.
It is a new chapter in my life and career, plus it has given me the opportunity to link back-up with Finner and I know he is already putting together a really strong roster.
I think it is going to be a good year for Manchester and having Ginn back is huge, he is an unbelievable goaltender. I am just looking forward to getting the season going.
The Manchester Storm OSC are delighted to announce the launch for 2019/20 Own and Loan. You can find out more information here. Keep your eye on the OSC social media for more future announcements.
Words by Callum Schora