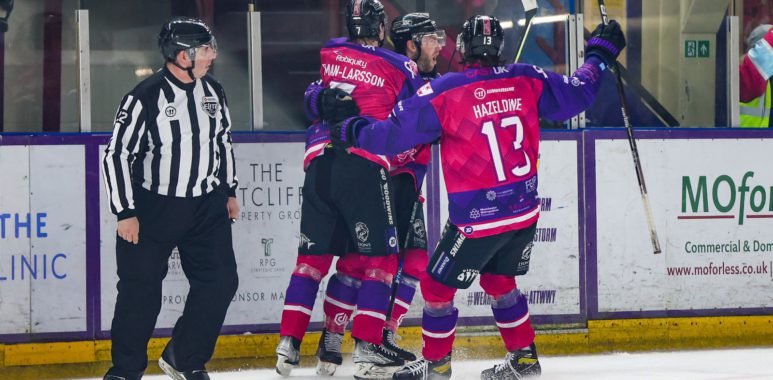 STORM PICK UP WIN, MOVE INTO SIXTH IN STANDINGS
Pink the Rink night in the Shelter saw the Storm sporting special pink jerseys in partnership with Prevent Breast Cancer.
The visiting Flyers are currently in a battle to clinch a playoff spot as the Storm target a sixth place finish. It was the Flyers who got off to the perfect start in the Shelter, scoring within a minute of the first face off.
Johansson found some space in front of goal and fired a quick wrist shot which beat Brodeur down low. The Storm responded well creating some chances with a strong forecheck but couldn't quite convert. A largely uneventful period ended with the Storm equalising with just six seconds left. It was Critchlow who rushed up the wing blasting a shot past Owen which went top corner. An unassisted, shorthanded goal.
The Flyers doubled their lead late in the second when Sherbinin shot a bobling puck high on Brodeur from close range. Despite a total of five minor penalties in the period neither team found success on the powerplay. Brodeur especially, pulling off some quality saves to deny the Flyer's forwards.
An important third period would follow with just a single goal separating the two sides. Storm were afforded a long five on three powerplay after four Flyers sat for a total of eleven minutes. Ehrhardt and DeLuca scored in quick succession to put the Storm up by one – taking the lead for the first time in the game. It was one way traffic at this point as the Storm forwards peppered a rattled Owen in the Flyers net, looking to extend the lead.
With less than two minutes remaining the Flyers called a time out and pulled Owen for an extra attacker. To no avail however as Hermann found the back of the net from long range to seal the win with a 4-2 score line.