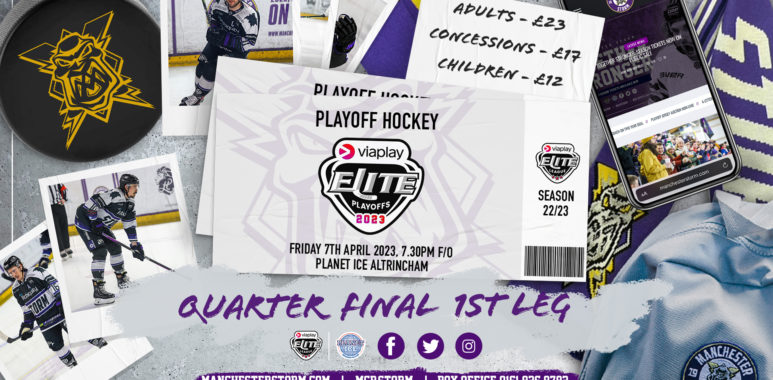 QUARTER FINAL TICKETS TO GO ON SALE 8PM SATURDAY 18th MARCH
Manchester, the date for our #Playoff Quarter Final (home leg) has been set! Matt Ginn and the squad will take on a yet to be confirmed opponent on Friday 7th April with a face-off time of 7.30PM!
The #Playoff Quarter Final fixture is not included in the 2022/23 season ticket, but we have arranged for all ST holders seats to be reserved on the Planet Ice ticketing system. All you have to do to purchase your tickets is call the Box Office on 0161-926-8782 or head to the Planet Ice Box Office in person from 8PM this evening.
When tickets go LIVE at 8PM, they will be available online HERE! 
This is our first #Playoff Quarter Final fixture since 2018 and we are anticipating a sold out 'Storm Shelter' so please book your tickets in advance to avoid disappointment.
#WeAreStorm | #Manchester