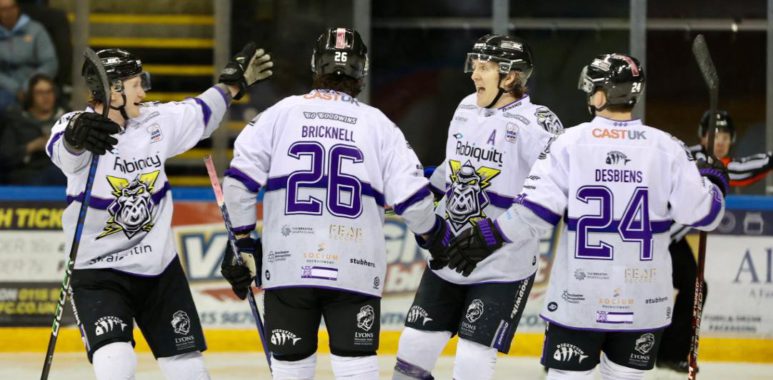 STORM COMPLETE MAXIMUM POINT WEEKEND AFTER WIN IN NOTTINGHAM
Manchester Storm opened up a four-point gap on Nottingham Panthers to go clear in sixth place with a deserved 5-1 win at the Motorpoint Arena on Sunday afternoon.
Scott Simmonds put the Storm into an early lead with a tip on a Zac Herrmann shot form the point at 3:56 for the game's opening goal. Jeremy Brodeur made an excellent save later in the period to stop the Panthers getting on the board as Manchester led by one after the opening 20 minutes.
5:58 into period two, Anthony DeLuca fired a wrist shot past Peyton Jones for a textbook powerplay goal in the circle to double the home side's lead, while just under five minutes later Chase Harrison was the beneficiary of a deflected shot to beat a stranded Jones and give Storm a three-goal advantage. Stephen Anderson got the Panthers on the board with 1:32 remaining in the second to give the home side some hope in a game where they comfortably outshoot their opponents through 40 minutes.
Those Panthers hopes were short-lived, however, as Simmonds scored his second of the game to put Storm 4-1 up with 15:58 to play. Tyson Fawcett made it five for the visitors at 54:02 as they rounded out a four-point weekend. The Panthers have a game in hand on the Storm going into their final five fixtures of the season.