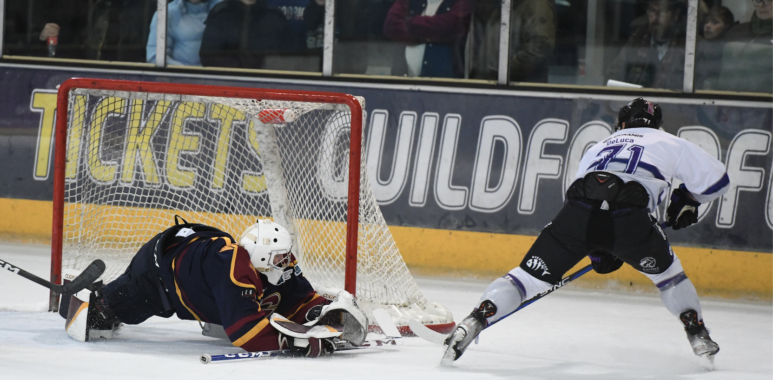 Storm double up against league leaders
Manchester Storm made it two wins from two against league leaders Guildford Flames with a one-goal win in a high-scoring game at the Spectrum.
Levi Cable opened the scoring at 4:49 for the hosts, and when Brett Ferguson made it 2-0 with 16:18 played it seemed like the Flames were on their way to avenging their 8-1/thrashing the night before. However, Tyson Fawcett cashing in on a rebound from an Anthony DeLuca breakaway effort brought the visitors back to within one 38 seconds later.
Daniel Tedesco put the Flames back two ahead 6:32 into period two, but DeLuca's first of the night from a neat angle high on Taz Burman had the Storm back to within one again at 30:59. Kyle Locke jumped into the play to give the hosts a 4-2 lead at 32:50 but again Storm hit back – Scott Simmonds this time redirecting a Kevin Ekman-Larsson shot at 34:41.
Cam Critchlow deservedly pulled the visitors level 59 seconds into period three, with DeLuca then putting them ahead for the first time in the game at 45:55. An excellent Daniel Tedesco goal levelled things just over three minutes later to set up a tense final 10 minutes of regulation. With overtime looming, Anthony DeLuca broke down the left wing and beat Burman high to snatch both points for Manchester with 3:07 remaining.