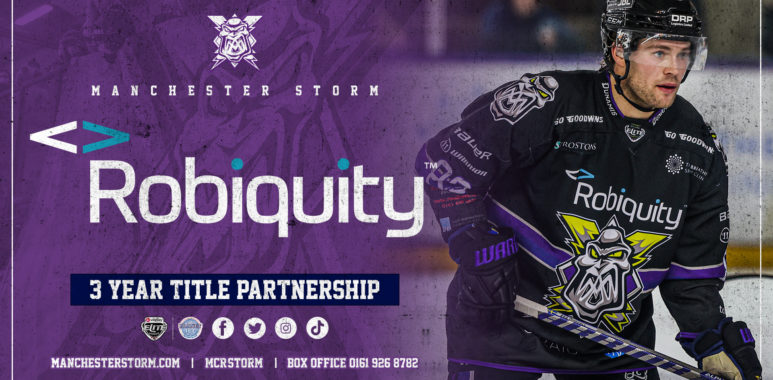 ROBIQUITY SIGN RECORD MULTI-YEAR PARTNERSHIP WITH STORM!
Manchester Storm are delighted to announce automation company Robiquity ink record breaking 3-year deal with the club to become their Title Partner through to the end of the 2024/25 season.
Initially coming on board as a club partner during the Elite Series in 2021, the relationship has grown from strength to strength over the course of the last 18 months.
After re-forming in 2015 the club are now in it's 8th season and growing year on year. The deal helps solidify our future and is an important milestone in our history.
Robiquity was founded in 2016 and is now undoubtedly the UK's market leader in Intelligent Automation (IA) 'The Next Industrial Revolution', with over 110 staff across their sites in Manchester, California, Dubai and Cairo. 
Robiquity's mission is to enable businesses and their people the time to fulfil their core purpose. This is accomplished by rethinking the way that work is done, transforming siloed teams, functions and systems into streamlined end-to-end processes. Removing manual repetition and delays to boost productivity, efficiency and customer service. Robiquity's expertise is in successfully implementing the perfect balance between Intelligent Automation and people…FAST.
Robiquity automate businesses for a variety of objectives, including growth, value, compliance, experience and efficiency through use of best-in-class vendor technology applied agnostically. 
Robiquity are growing fast and their culture is a fun and vibrant one. Their values are to work as one team, to the highest quality standard while continually improving. Doing the right thing as a business and as people and they show that they care.
If you're thinking Automation, think Robiquity.
Ryan Finnerty, Manchester Storm General Manager had this to say on the exciting partnership; "Securing this sponsorship provides stability for the club going forward. We are excited to be able to utilise our Canadian contacts to make this deal happen. A lot of work and travel has gone into making this partnership available and we are excited to develop this into a long lasting relationship."
Tom Davies, Robiquity CEO said, "We're very proud to announce our partnership with Manchester Storm as 'Title Partner' which reflects our continued commitment to the team and the amazing sport of Ice Hockey.  Manchester Storm have become an international beacon of excellence in the city of Manchester through their continued hard work and agility, which are values shared by Robiquity.  We're excited to see our brands continue to synergise and grow globally in the coming months."
The club would like to thank ON:iT Sports Management for brokering the deal.
Chris Bailey, ON:iT Sports Management CEO said, "We are delighted to conclude an agreement that sees Robiquity become the title partner of Manchester Storm on a multi-year deal. Robiquity are a market leading organisation with proud mancunian roots who are expanding globally with a particular focus on the Canadian market. The opportunity for both parties to embark on a mutually beneficial partnership is very exciting and we look forward to watching it develop."
Follow Robiquity on social media and visit their website for more information on the services they offer.
Facebook: @Robiquity 
Twitter: @Robiquity 
LinkedIn: Robiquity 
T: 0161-974-3244