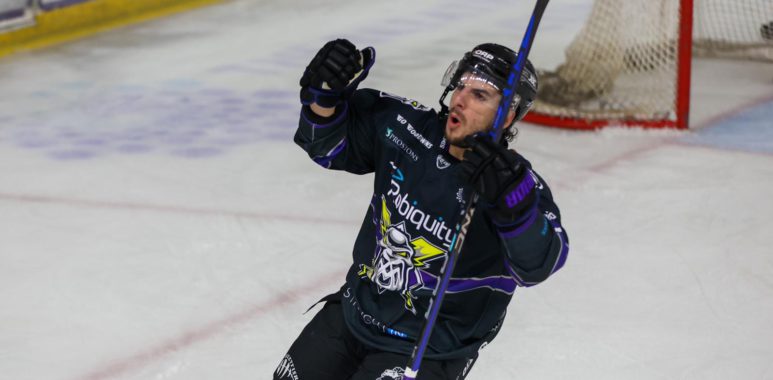 STORM DESTROY FLAMES 8-1 IN BOXING DAY CLASH!
The Storm welcomed the league leading Guildford Flames to Manchester on Boxing Day. The Flames remain unbeaten since mid November in all competitions.
Storm did however gain a point against them last time out away in Surrey. The Flames had the better of the opening exchanges in the game but it was the Storm who struck first. Barrow got his name on the game sheet after Ohrvall's dash up the left wing found the Canadian forward with time enough in front to go forehand backhand against McAdam in the Flames net.
Herrmann doubled the lead five minutes later with a well placed slapshot from the point which beat the goalie down low, assisted again by Ohrvall. The Storm Shelter erupted moments later as DeLuca lasered a wrist shot past McAdam from the hash marks, beating him at his near post. Storm survived a late two minute penalty kill to take a healthy three goal advantage in to the break. Barrow got his second of the night on the powerplay whilst Griffiths sat a minor for tripping – a shot from the point which was smartly tipped in.
The Flames upped the physicality at this point in an attempt to get themselves back in the game. Ohrvall had other ideas however scoring twice in quick succession to put the Storm ahead by a huge six goals. The Flames finnaly found a way past Brodeur midway through the final period courtesy of Tait who poked one home after a goal mouth scramble. The Storm responded in fine fashion adding their seventh goal of the game through Simmonds with Ohrvall picking up his sixth point of the game on the assist.
An eighth followed this time scored by DeLuca who pulled of a skilful deke to beat McAdam one vs one on a penalty shot which was awarded for a hook on the forward. An all round dominating performance by the Storm kept the points safely in Manchester. Ohrvall picked up the man of the match award with an outstanding two goals and four assists.