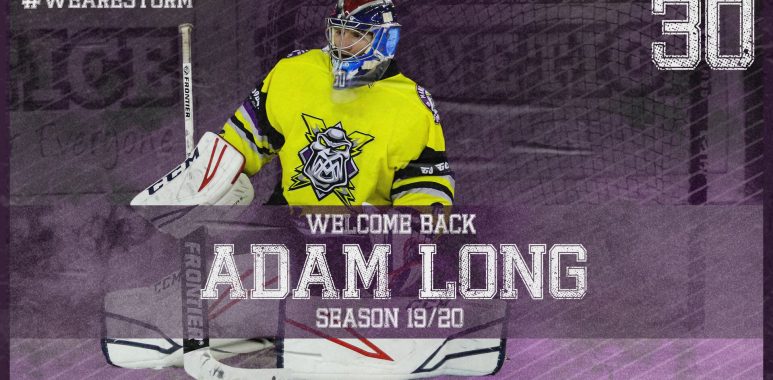 Welcome Back to Manchester, Adam Long!
SEASON TICKETS: The Go Goodwin's Manchester Storm are pleased to announce that season tickets for the 2019/20 Elite Ice Hockey League season are now available to purchase. Season Tickets can be ordered here. The deadline for the Early Bird offer is Friday 31st May.
Your Go Goodwins Manchester Storm are delighted to welcome Adam Long back for the 2019/20 season.
After joining the club last season as Declan Ryan's replacement, the British netminder joins the club for his first full season.
The 23-year old goalie has had plenty of ice time in UK hockey, and is ready to step up to the top level and show what he can do. Previous teams for the netminder include: Peterborough Phantoms u16, u18 and seniors, plus Chelmsford based teams –  Mohawks, Chieftains and Warriors. The 2017/18 season saw Long ice between NIHL sides Peterborough Phantoms and Hull Pirates, his save percentage an average of .92%
Long has also represented Great Britain twice in 2016/17 and 2018/19 in the Universiade – the international event organised by the International University Sports Federation.
By the 2018/19 season, Long was signed to Invicta Dynamos, playing 20 games before signing a two-way contract with the Storm when Declan Ryan departed due to a career change.
Signed only to the Storm for the upcoming season, Long is one to watch – a talented young British netminder, who will play an important role at the club.
Player Profile
Position: Goalie
Age: 23
Height: 6'2"
Weight: 154lbs
If any businesses or individuals would be keen to learn about a fantastic "full player sponsorship" for Adam Long, please email liam@storm-office.com for more information.
The Manchester Storm OSC have launched the 2019/20 Own and Loan. You can find out more information here. Keep your eye on the OSC social media for more future announcements.
Words by Shelly Kiely