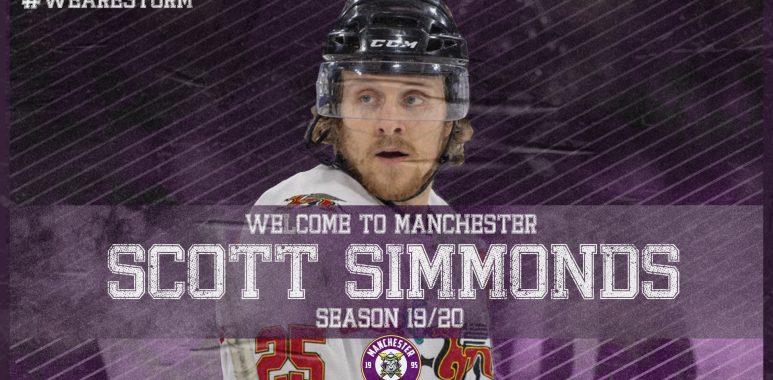 BREAKING NEWS: WELCOME TO MANCHESTER, SCOTT SIMMONDS!
SEASON TICKETS: The Go Goodwin's Manchester Storm are pleased to announce that season tickets for the 2019/20 Elite Ice Hockey League season are now available to purchase. Season Tickets can be ordered here. The deadline for the Early Bird offer is TODAY, so apply soon and avoid disappointment!
Your Go Goodwins Manchester Storm are delighted to welcome Scott Simmonds to the club for the 2019/20 season.
The Canadian forward joins the Storm as a newcomer, and will be looking to impress in his EIHL debut. Brought in by Head Coach, Ryan Finnerty alongside University teammate Cody Thompson, Simmonds is well prepared for his first professional season.
The Ontario born forward recently completed five seasons in the USports league, icing for the University of Guelph Gryphons. During that period, the 25-year old totalled an impressive 95 points, including 60 assists. The end of the 2018/19 season, saw the senior as the Gryphons leading scorer, with 25 points, accomplishing the selection for the very first OUA West All-Star Team. 
Previous teams for the Ontario born forward include: Belleville Bulls (OHL), Wellington Dukes (CCHL) and Central Ontario Wolv. Entering his fourth season with the Belleville Bulls, Simmonds was awarded the "A", icing 245 games with the team.
The left-handed forward also claimed a Bronze Medal when representing Canada in 2016/17 in the Universiade – the international event organised by the International University Sports Federation.
 Having iced together for four seasons at Guelph Gryphons, keep your eye on teammates Thompson and Simmonds, as they look to create a storm together in the upcoming season. 
Player Profile
Position: Forward (C)
Age: 25
Shoots: Left
Height: 6'1"
Weight: 196lbs
If any businesses or individuals would be keen to learn about a fantastic "full player sponsorship" for Scott Simmonds, please email liam@storm-office.com for more information.
Keep checking the Manchester Storm OSC for Own and Loan information and future announcements.
Season Tickets for the 2019/20 season can be ordered here. The deadline for the #EarlyBird offer is TODAY, so apply soon and avoid disappointment. You have until MIDNIGHT to submit your forms!