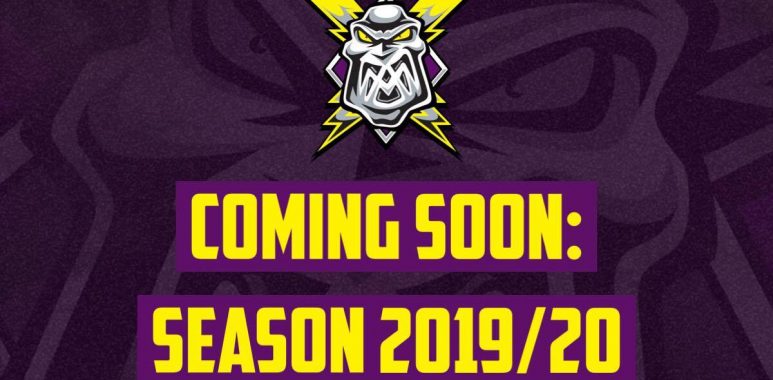 SEASON TICKETS: 2019/20 SEASON
Tickets for Storm's upcoming home game against Belfast Giants can be ordered online HERE, or by calling the Box Office on 0161 926 8782, or in person at the box office. Face-off is Friday 22nd March, 19:30 face-off.
Your Goodwin Group Manchester Storm are thrilled to announce the launch of the 2019/20 Season Tickets!
Included with the tickets will be all the EIHL regular season games. Season ticket holders will also be given special offers, discounts and promotions from the club's sponsors across the season – so don't miss out.
The 2019/20 Season Ticket is now open to everyone, but current Season Ticket holders will have a two week priority from today, should they wish to reserve their current seating plan for next season – the deadline is Friday 5th April. Following the deadline, the seats will be open for general sale.
You can view the seating plan & seats available by visiting the official Planet Ice website HERE.
To apply for 2019/20 season tickets, just download the application form here; Application Form and fill it in. There are a few options on how to give us your forms. You can send them back via email to seasontickets@storm-office.com . Storm Sports Store will also have a post box set up for you to post it when you're at the rink.
Forms will be available during tonight's game from the OSC stall and Storm Sports store should you want to get your application in early!
Jamie Tunstall, Managing Director of Manchester Storm commented;
'We have had many current ST holders looking to once again secure their seats for the new season & also plenty of new fans ask about season tickets across social media and also at the Box Office, which is very exciting & shows the club continues to grow, year on year. The 2019/20 season ticket is a great option for those wanting to follow the team, with bonuses and fantastic perks being thrown in across the season. I'd like to thank our loyal fan-base for it's continued support & we look forward to being part of a successful 2019/20 campaign! 
Head Coach and General Manager, Ryan Finnerty added;
'As a coach and GM, I believe in providing our fans with the most entertaining brand of hockey possible. To do this, I like my team to have a good mix of size and skill, but most importantly I want players who wear their hearts on their sleeves and give 100% to get a win every night. Although this approach sometimes lands us in trouble, I'd rather have a team who love to win and hate to lose, than a group that are happy with mediocrity."
Head Coach, Ryan Finnerty has already begun the building process for the 2019/20 season, so keep your eyes on our official website & social media channels over the coming weeks for announcements..
Head of Sponsorship & Marketing, Liam Hesketh commented;
"Although we are still battling hard to secure a playoff position this season, the off-ice team of course have one eye on next season, and plans are well underway for 2019/20!
 "We have some great things in store for our season ticket holders, who are the lifeblood of our club.
 "We are currently in discussions with many local businesses with regards to offers for season ticket holders and we will be releasing the news over the coming weeks. The aim is to make our season ticket great value, not just in the respect of saving money on match tickets, but also by saving money in businesses in and around Altrincham and of course, Manchester City Centre."
Our 2019/20 Season Ticket application form, terms & conditions and the payment options are all available to download below! 
DON'T miss out on the final two games of the regular 2018/19 season. Tonight we face the Belfast Giants, 7:30PM face-off. Our final league game falls on Saturday 30th March, 19:00PM face-off.
Don't miss the opportunity to own and loan a Storm players jersey this season! More information can be found here. Keep your eye on the Official Supporters Club social media for information on kit club and also the final two OSC events of the season!