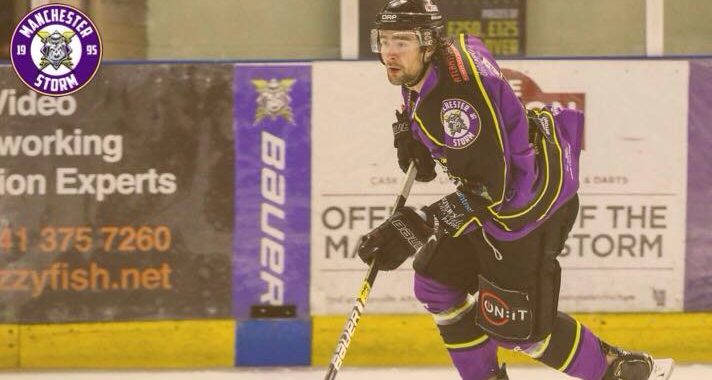 MATCH REPORT: Storm Claim Another two Points on the run up to Playoffs!
Tickets for Storm's upcoming home game against the the Belfast Giants can be ordered online HERE, or by calling the Box Office on 0161 926 8782, or in person at the box office. Face-off is Friday 22nd March, 19:30 face-off. There are just two home games of the 2018/19 season remaining, so don't miss out!
The first goal appeared early into the first twenty minutes, tapped into the net mid-air by Byers, assisted by Hammond and Moffatt at 1:04.
Moffatt was given a two minute minor penalty for high-sticking at 3:55. Lightning's powerplay opportunity was taken away, when Baillargeon was then handed two minutes for tripping moments later.
At 10:54, Fine was sent to the box for high-sticking.This was Storm's chance, Ehrhardt scored on the powerplay through the five-hole of Goss, assisted by Moffatt and Long.  
Spectators saw 4 on 4 hockey once more when both teams were handed a penalty, Ruopp for roughing (18:18) and Wallace for tripping (18:44).
Moments after Lightning were given a penalty shot, denied by Ginn, Baillargeon scored Lightning's first goal in the final minute of play at 19:16.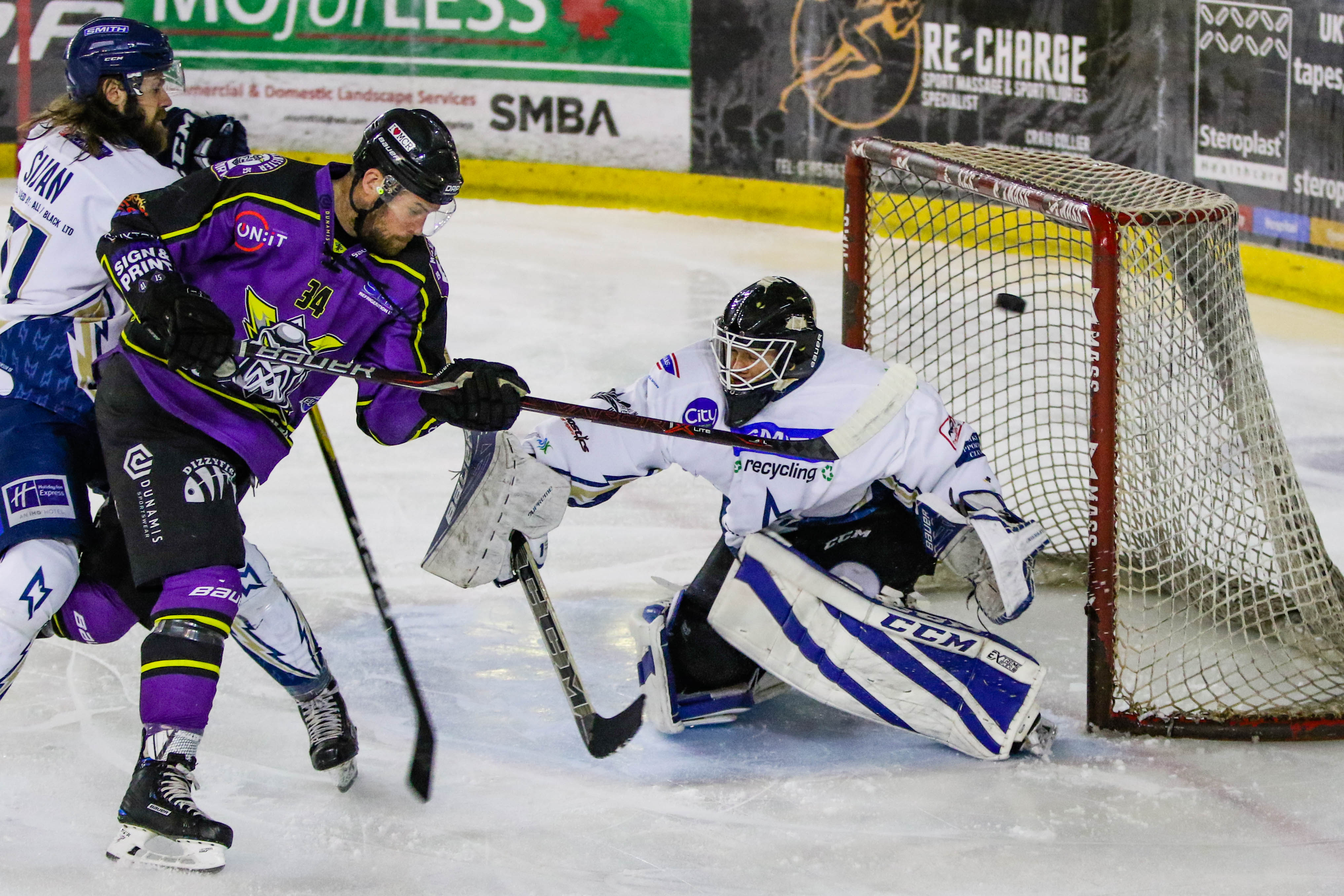 The Storm's third goal of the evening appeared at 32:23, Long scoring back-hand from a turnover in the offensive zone, assisted by Richardson and Hammond.
Stadel was handed a two minute minor when things got feisty, for roughing at 37:11. With stoppages throughout, and tight defence from both sides, the second period only saw one goal.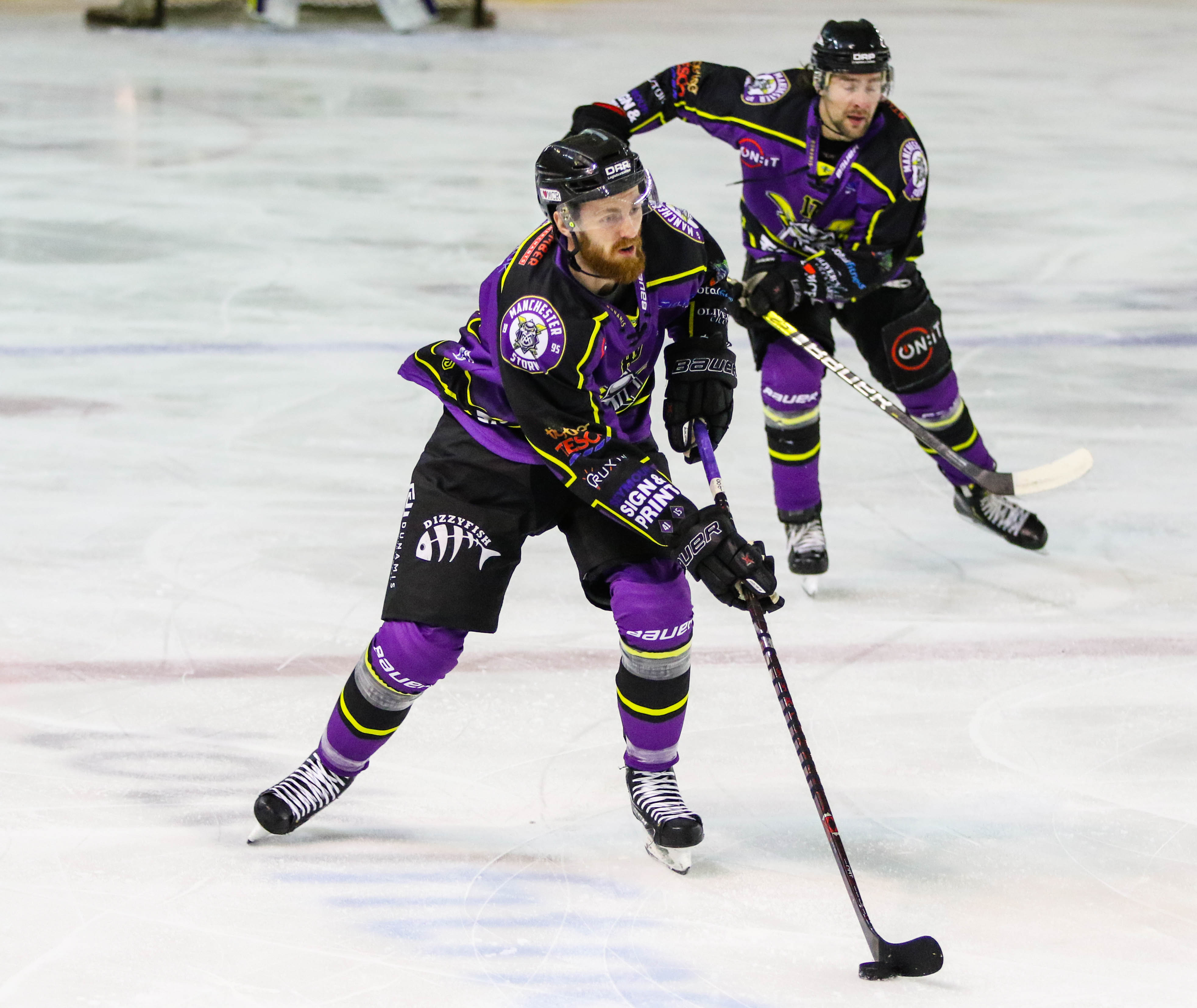 The final period was the most eventful, spectators witnessing a total of seven goals overall.
Long was sent to the penalty box for holding at 43:03. As the Storm's penalty kill was coming to an end, Lightning scored a powerplay goal,scored by Sijan over the shoulder of Ginn at 45:01.   
Storm widened the gap back to two goals difference at 46:10, when Macmillan scored through Goss' five-hole on the rebound, assisted by Linsmayer and Long. This was followed by goal number five as Ehrhardt scored with on a slap-shot from the point two minutes later.
Out of nowhere came Sijan, who got his second goal for Lightning at 52:07.
Storm seized the chance for goal number six moments later at 53:38, MacMillan claiming his second goal of the night, assisted by Ehrhardt and Braid.
Lightning pulled one back, narrowing the scoreline at 58:03, a backdoor goal scored by Fine. In the final minute of play, Lightning pulled Goss in place of an extra attacker. Lightning struck again as Armstrong put goal number five past Ginn with the assist by Sijan at 59:25.
Despite pushing forward and scoring four goals in the final period, it just wasn't enough for Lightning to level against Storm, narrowly missing out by only one goal. After a well-fought game between both sides, Storm won 6-5 – helping secure a place in the top eight in the run up to playoffs.
Man of the Match for MK Lightning went to #71 Ivan Sijan.
Man of the Match for Manchester Storm went to #17 Logan MacMillan.
Shots on Goal: Adam Goss – 24.
Shots on Goal: Matt Ginn – 30.
Referees: Chris wells & Steve Brown.
The next home game falls on Friday 22nd March against visitors, Belfast Giants – 19:30 face-off! The final home game of the regular 2018/19 EIHL season falls on Saturday 30th March against visitors, Coventry Blaze – 19:00 face-off.
Don't miss the opportunity to own and loan a Storm players jersey this season! More information on own and loan can be found here. Keep your eye on the Official Supporters Club social media for information on kit club and also the final few OSC events of the season – including Quiz with the Storm and end of season Awards Night.