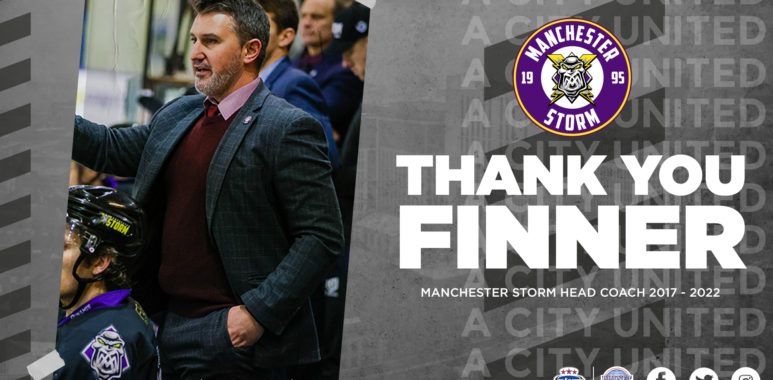 RYAN FINNERTY STEPS DOWN AS HEAD COACH, MOVES TO FULL TIME GM ROLE
The 2021-22 Elite League campaign was Ryan Finnerty's last as Head Coach of Manchester Storm. The now full-time General Manager will focus his attentions on building the business side of the club and continuing to develop the club's corporate partnerships.
After several years in the Elite League as a player, Finnerty took on the difficult task of player-coach with Sheffield Steelers in 2011. By the 2012-13 season, Finnerty would find himself behind the bench on a full-time basis – in a role he would maintain for ten consecutive seasons.
A successful four-year tenure with Braehead (now Glasgow) Clan saw Finnerty pick-up the EIHL Coach of the Year award in 2014-15, as his Scottish outfit finished 2nd in the league tables – just one point behind his former employers, Sheffield Steelers. 
A complete change in personnel and club ownership in Manchester, ahead of the 2017-18, season would bring Finnerty back across the border to the north-west. A hugely impressive debut year in Manchester, saw the Storm fight their way to 2nd overall and secure Finnerty his fourth consecutive conference title. 
The impacts of COVID-19 would soon be felt across the league, as the 2019-20 season was quickly curtailed with the Storm well-placed for a play-off berth. However, during and after this difficult spell, Ryan Finnerty opted not to question import numbers but instead shift the club and his personal focus to young British player development. 
Now General Manager of Manchester Storm and Director of Hockey for Blackburn Hawks (NIHL1), Ryan Finnerty had this to say about his latest plans: 
"I feel like this is the right time for me to step away from the bench – all coaches within any league have a shelf-life and it's a decision that will better our wonderful club. It is the perfect time for somebody else to take-up the reigns and negotiations for this position are already underway.
The dual role of Head Coach and General Manager has been taxing, particularly in recent times, and I am confident in my decision to fully focus on expanding our off-ice positions. I am excited about the challenge my new role brings and feel strongly about our chances of accomplishing great things with a freshly built roster next season."
Managing Director Jamie Tunstall commented: "First of all i would like to congratulate and also thank Ryan for all his hard work and dedication to the role of head coach of the Manchester Storm. Not only is he a close friend but also a business partner and when we took over the running of the club, this was always the plan for Ryan, eventually to move away from the coaching role and into purely into an off-ice GM role.
Obviously the decision wasn't an easy one for Ryan but after a few discussions, I think to move this club forward like we have always planned to do, then as a club we fully support it and are excited for what lies ahead both on and off the ice. I'm sure he will be as successful off the ice as he was on it. Thanks for the memories Ryan, now let's make new ones."
#WeAreStorm | #Manchester