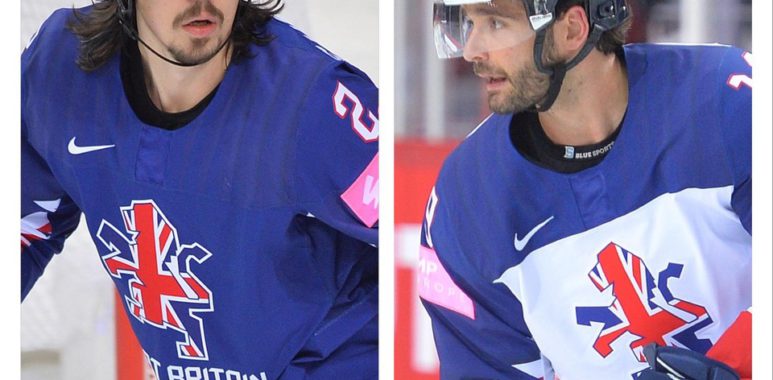 Two changes to GB squad for World Championship in Finland
Great Britain have made two changes to their roster for next month's World Championship in Finland because of injury.
Injuries to Ollie Betteridge and Mike Hammond have ruled them out of the tournament and they join Brendan Connolly, Liam Kirk and Steve Lee on the sidelines.
Defenceman Dallas Ehrhardt and forward Luke Ferrara have both been called into the squad, while Evan Mosey will move from defence to play as a forward.
GB Head Coach, Pete Russell, said: "Losing both Ollie and Mike is a massive blow for us and they will be very much missed in Finland.
"I know they – along with Brendan (Connolly), Liam (Kirk) and Stevie Lee – are devastated to miss out on this year's tournament.
"But thanks to the depth we now have, we are able to bring in two players who already have World Championship experience at this level.
"We also had some players make themselves unavailable for selection because of personal commitments, which we totally respect.
"All these missing parts have given other people a chance to shown what they can do."
GB's pre-tournament camp gets under way on Tuesday 3rd May and Russell's side will have four matches ahead of the World Championship.
After playing Italy in Milton Keynes on Thursday 5th May, GB will face Denmark in Coventry on Saturday 7th May and also in Nottingham on Sunday 8th May.
The final UK international game takes place against Italy in Coventry on Tuesday 10th May – the day before GB depart for Finland.
Netminders
Ben Bowns – Dukla Trencin, Slovakia
Jordan Hedley – Coventry Blaze
Jackson Whistle – Belfast Giants
Defence
Josh Batch – Cardiff Devils
David Clements – Coventry Blaze
Dallas Ehrhardt – Manchester Storm
Sam Jones – Sheffield Steelers
Ben O'Connor – Csikszerda, Romania
David Phillips – Sheffield Steelers
Mark Richardson – Cardiff Devils
Josh Tetlow – Nottingham Panthers
Forwards
Scott Conway – Belfast Giants
Ben Davies – Cardiff Devils
Robert Dowd – Sheffield Steelers
Sam Duggan – Cardiff Devils
Luke Ferrara – Coventry Blaze
Lewis Hook – Belfast Giants
Robert Lachowicz – Guildford Flames
Ben Lake – Belfast Giants
Evan Mosey – Sheffield Steelers
Matthew Myers – Nottingham Panthers
Cade Neilson – Aberdeen Wings, NAHL
Brett Perlini – Ringerike, Norway
Jonathan Phillips – Sheffield Steelers
Josh Waller – Cardiff Devils
Reserves
Netminders: Ben Churchfield (Vermilion County Bobcats, SPHL), Brython Preece (Dundee Stars). Defence: Joe Hazeldine (Manchester Storm). Forwards: Jordan Cownie (Guildford Flames), Mac Howlett (Guildford Flames), Jordan Kelsall (Nottingham Panthers), Ross Venus (Coventry Blaze), Brandon Whistle (Sheffield Steelers).