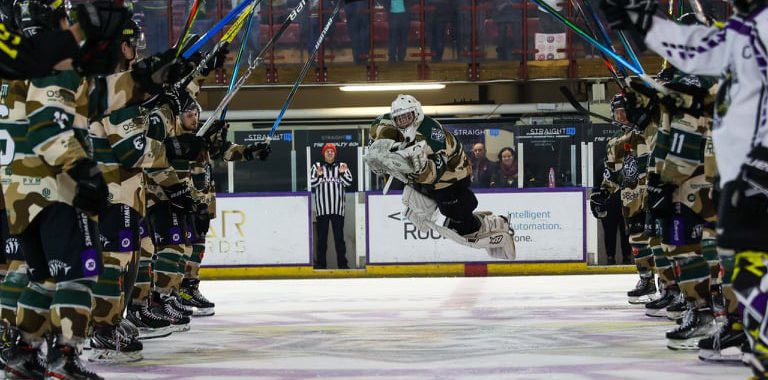 REPORT | STORM WIN 4-3 IN THRILLER AT THE STORM SHELTER
The special edition forces camouflage was befitting for the battle which ensued at the Storm Shelter, as the hosts came out 4-3 victors against Dundee.
A lively opening period saw the visitors find a way beyond Downie, in the Storm goal, inside five-minutes of play on their first real scoring opportunity of the game. Although, just three minutes later and things would be level again, as Brady latched onto an accurate pass from Hamilton and fired a low-shot between the pads of Morrison. A new look Storm powerplay breakout would prove immensely effective, as they were able to convert on three occasions in an ill-tempered twenty minutes of hockey.
Just 29 seconds into the middle period and hosts were ahead, as an accurate Hamilton effort tickled the twine. A misjudged check by Sills from Dundee saw him removed from the encounter and in the process hand the Storm a five-minute powerplay opportunity. This scoring chance would be seized upon with Critchlow and VanWormer beating Morrison to extend the hosts advantage to three-goals. Amongst the scoring the crowd were treated to two fights, as Fawcett and Poirier exchanged blows, which was soon to be followed by the heavyweights Springer and Haas. The aforementioned Haas received 2+5+10 for instigating the shortlived scrap and sent the Storm back onto the powerplay, which for the first time in the period the hosts were unable to convert.
An excellent crossice pass from Dow found the vacant Combs whose drop-pass set-up Lawerence from the Stars second goal, in the 48th minute which brought them back within two-goals. Stars Head Coach, Omar Pacha, pulled his goaltender with just over two minutes remaining and when Dorowicz converted on the doorstep things would become incredibly tense for the remaining 80 seconds.
However, some heroic shot-blocking and solid goaltending from Downie in the final moments would secure the two league points for the Storm
#WeAreStorm | #Manchester