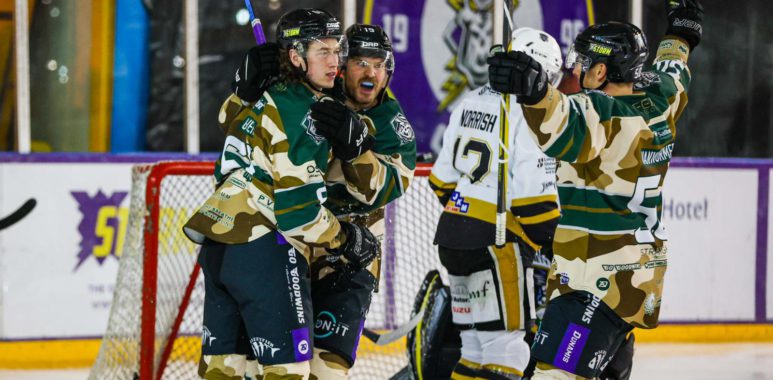 REPORT | MANCHESTER DOMINATE NOTTINGHAM, WALK OUT 7-3 WINNERS
A youthful and Brit heavy Storm roster was able to dismantle and dominate the Panthers 7-3, in the Challenge Cup.
A cagey opening stanza saw scoring opportunities limited for both sides. An unfortunate puck bounce from the face-off was seized upon by the Panthers and JC Brassard's pinpoint attempt found the top corner to give the visitors the only goal of the period.
A totally dominate five-goal middle period by the Storm swung things dramatically in their favour. The highly effective Manchester powerplay sprung into action on its first outing of the game, as a beautiful spinning moving and finish by Gulliver tied proceedings. Exactly thirty seconds later, the hosts were ahead with Melton's accurate wristshot attempt beating Kerlin in the Panthers goal. Another wristshot, this time from the blade of Springer, burst through the glove of the Panthers netminder a few moments later.
A quickfire brace from Hamilton blew the game open with two well-timed shots sneaking between the pads of Kerlin, to tilt the game well in-favour of Storm at 5-1.
The lopsided goalscoring momentum continued into the final period when in the 45th minute Fawcett scored on the rush. A second goal in the game for Brassard brought some brief respite for a now beleaguered Panthers outfit. However, the Storm would soon have their seventh when a shocking turnover by the Panthers, on the powerplay, sent Fawcett through 1:1.
The diminutive forwards precise shorthanded finish restored the hosts five-goal cushion. A consolation goal by Clarke-Pizzo in the 59th minute for the Panthers brought a close to the games goalscoring.
#WeAreStorm | #Manchester