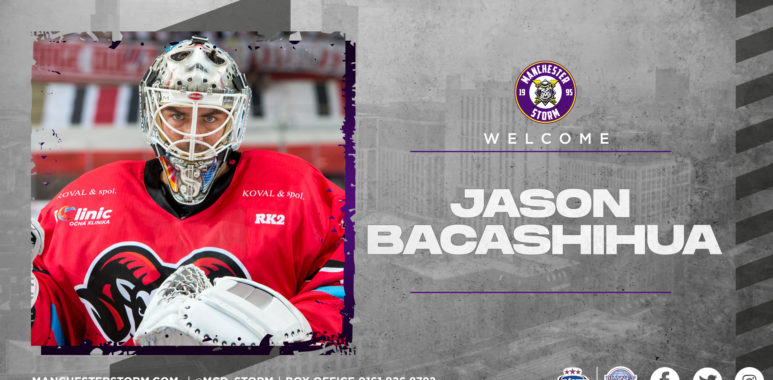 BREAKING | STORM BRING IN FORMER NHL GOALTENDER JASON BACASHIHUA
Manchester Storm are thrilled to announce the signing of former NHL goaltender, Jason Bacashihua, most recently of Dunaújvárosi Acélbiká (Erste Liga).
The vastly experienced netminder was taken by Dallas Stars in 1
st
 round (26
th
 overall) of the 2001 NHL draft, having dominated the OHL with Plymouth Whalers. His first and final major junior campaign saw him named to the CHL All-Rookie team and win three individual awards (most shutout, best rookie and league GAA).
A few years were spent developing his craft in the AHL, splitting time between Utah Grizzlies and Worcester IceCats. In the 2005/6 season, Bacashihua would make his first appearances in the NHL and by the end of the year this total would be 19, as the netminder produced .899 SV% and 3.23 GAA.
The following season Bacashihua continued with the Blues and in doing so made a further 19 NHL appearances, taking his career total to 38.
From 2007-2012, Bacashihua spent the majority of his time in the American Hockey League and provided back-up cover in the NHL. In 2009/10, the American goaltender would be part of an impressive goaltending trio in Jason Bacashihua, Braden Holty and Michael Neuvirth, that ultimately lifted the Calder Cup with Hershey Bears.
The 2012/13 season saw Bacashihua make his way over to Europe for the first time, as he signed with German DEL outfit, Straubing Tigers. In three years with the Tigers, Bacashihua posted an impressive .913 SV% and 2.75 GAA.
In 2015/16, the now hugely experienced netminder started a two-year tenure with HC Banska Bystrica of Slovakia. During this time, he was crowned Slovakian Extraliga Champion, as well as winning awards for most shutouts and best league GAA.
From 2017 to 2021, Bacashihua goaltended in South Korea (Gangwon High1); Poland (Cracovia Krakow); Germany (Deggendorfer SC); Italy (Sterzing/Vipiteno) and Hungary (Dunaújvárosi Acélbiká), with the United Kingdom soon to be added to his list of a hugely impressive CV.
Head Coach, Ryan Finnerty, had this to say about the signing:
"
I am delighted to have been able to bring somebody with so much experience and quality. –  'Cash brings lots of experience and he is ready to step in and help us straight away. 
All the reports we have had back on him attest to him being an outstanding professional and that is replicated by the number of high-quality leagues he has played in.
He arrives in the country on Monday, which will give him an opportunity to settle-in, before we face-off against Coventry and headover to Belfast
."
#WeAreStorm | #Manchester