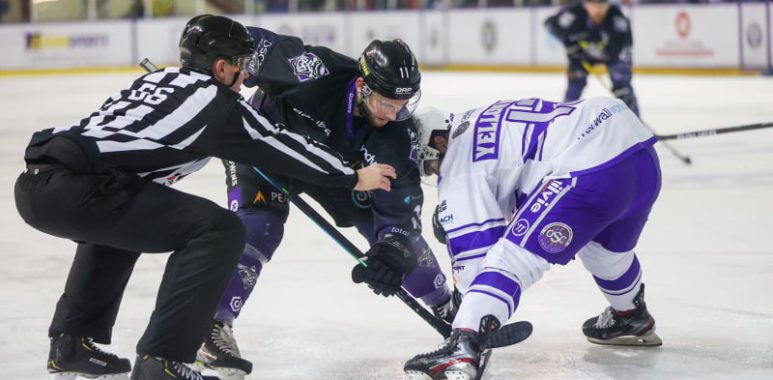 REPORT | MANCHESTER DEFEAT GLASGOW IN THRILLER AT THE SHELTER
A convincing 4-2 home win for the Storm saw the hosts take both points against Glasgow Clan, In their only fixture of the weekend.
On a night of goodwill and charity the visitors would momentarily spoil the festive atmosphere. A turnover deep in the Storm zone allowed a dangerous pass across goal to be converted by Nolan LaPorte in the 8th minute. However, the attacking pressure exerted by the hosts would eventually pay its dividend, as captain Dallas Ehrhardt seized upon a loose puck in the middle of the ice and proceeded to loft the puck into the Clan goal – cue "Air the Bear".
A speedy tidy-up effort by volunteers and Storm players saw a hasty resumption to the match; perhaps too quick, for some members of the home bench, as a calamitous error gifted the Clan a second goal in the period. The opportunistic Mathieu Roy would gleefully restore the Scottish outfits slender one-goal advantage, in the 18th minute, from close range. Yet, the hosts would not be perturbed as they again drew level through Ehrhardt, with the blueliner well-positioned to bury the rebound offered by a busy Starrett.
A middle period with few scoring chances was only punctuated by a few minor penalties and a short fight between Wilson and Southam, as the Storm blueliner dropped his foe to the ice with a powerful uppercut in the 37th minute.
The shooting barrage by the Storm would continue into the final stanza and with under two minutes remaining in the match they would finally break the Clan resolve. The initial effort by Melton would be well-stopped by Starrett before Fawcett accurately slammed home the second opportunity.
The visitors would pull their netminder, in favour of the extra attacker, in an effort to try draw level. However, the Storm managed to manoeuvre the puck out of their zone and into the path of Thompson who iced the game with the empty net finish with a little over thirty seconds remaining.