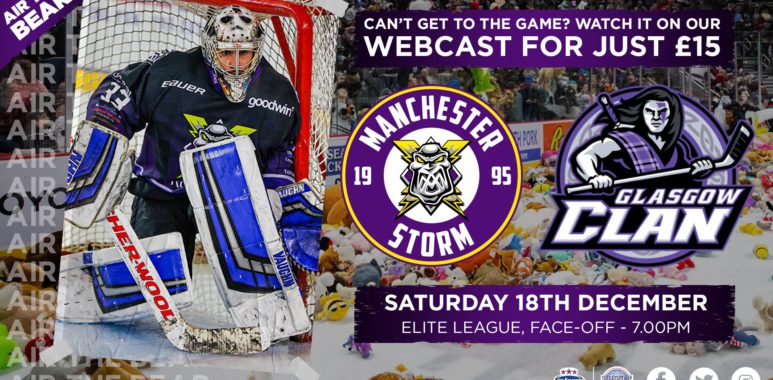 Latest News
Match Previews
PREVIEW: Air the Bear game against Glasgow Clan
Manchester Storm vs Glasgow Clan – Saturday 18th December @19:00 – Planet Ice Altrincham
The Glasgow Clan visit the Storm Shelter for the second time this season and Storm look to take two points on home ice during what will be our annual Air the Bear game.
AIR THE BEAR
Our annual event, Air the Bear aka The Teddy Bear Toss is this Saturday 18th. Read more about this fantastic event here.
Let's pack the Storm Shelter and give back to our community this Christmas. Our chosen charity is Mission Christmas (Cash for Kids).
Following the event, we will update you all on how many bears were thrown onto the ice and where they got distributed to.
Doors open at 18:00 for a 19:00 faceoff. Tickets can be purchased online, by calling 0161-926-8782 or in person at the Planet Ice Box Office. Buy your tickets here.
Covid-19 
Under the new rules following the governments 'Plan B', face masks and coverings will now be required in the Storm Shelter. Those who are exempt must provide proof at match night entrances. 
Please do not visit the Storm Shelter on match nights  if you feel unwell with Covid symptoms, if you have tested positive for coronavirus or have been told to isolate. 
Team News
Storm forwards, Adam Brady and Cameron Critchlow currently sit in the top ten players in the EIHL leaderboard.
Brady has 19 points, including nine goals and ten assists and Critchlow has 16 points with six goals and ten assists.
Webcast 
If you can't make Saturday's game, get the webcast via Storm TV here. 
Storm Sports 
Storm Sports Store will be open an hour before the game and during intermissions. Storm Sports sells a variety of Manchester Storm merchandise and hockey equipment. The shop has plenty of options for Christmas gifts, from hoodies, to hats and smaller stocking fillers.
Can't make the game? Visit Storm Sport's website here. 
Storm Support 
Head to Storm Support under block 112-113 to join the Supporters Club, purchase Storm merch such as pucks, and buy 50/50 tickets and your chuck a pucks.
Follow Storm Support on Facebook @McrStormSupport or Twitter via @Mcr_StormSuprt
Tickets for Air the Bear (18th December) Boxing Day and New Year's Day games are available now!  Buy your tickets here or call 0161-926-8782.