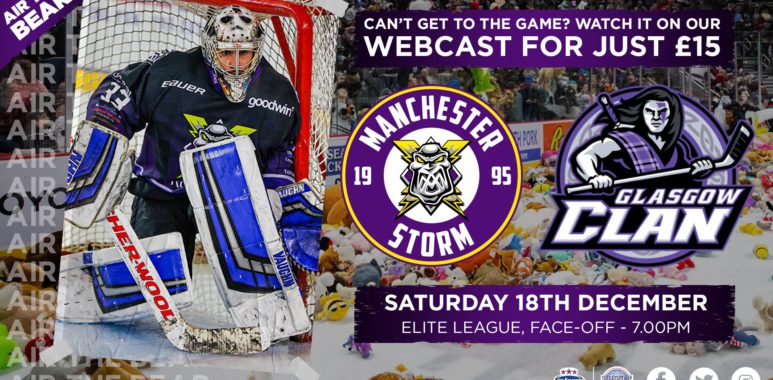 AIR THE BEAR CHARITY FIXTURE THIS SATURDAY!
Our annual Air the Bear game is this Saturday!
The special event will take place on Saturday 18th December 2021 against visitors, Glasgow Clan. This is an annual event and having missed out last year the club looks forward to holding the event once more.
For this year's fixture, Storm will partner with Mission Christmas.
Let's make it one to remember, bring your friends, family and let's pack the Storm Shelter. Doors open at 6PM for a 7PM faceoff.
Tickets for the fixture available HERE
Live-stream available HERE
What is Air the Bear?
Air the Bear – also known as 'Teddy Bear Toss', is an event where fans bring a soft toy to a hockey game during the Christmas period.  Once the home team seals their first goal of the evening, the bears are thrown onto the ice.
Following the game the soft toys are donated to charities and hospitals.
World Record
AHL team, The Hersey Bears have a world record with 45,000 bears flooding the arena in 2019. Watch the video here.
Important information about Air the Bear
For health and safety reasons please make sure your soft toy is wrapped in cling film prior to throwing it onto the ice.
Mission Christmas
We are thrilled to be partnering with our chosen charity Cash For Kids (Mission Christmas) this year.
About
Cash for Kids is a charity helping children across the UK.
Their mission is simple. Help improve disadvantaged children and young people within the community that are affected by poverty, neglect and illnesses and are in need.
Mission Christmas works with organisations that aim to make a difference to these young people's lives, support families who need it most and help give them achieve their potential.
Read more about our chosen charity here.
Tickets for the fixture available HERE
Live-stream available HERE