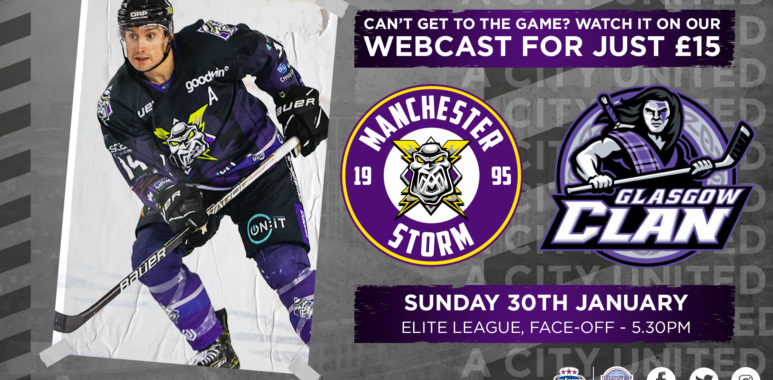 Latest News
Match Previews
PREVIEW: Storm look for revenge against Clan this Sunday
The Manchester Storm travelled to Dundee to face the Stars yesterday, where they picked up a 4-3 win in overtime. 
Manchester Storm vs Glasgow Clan – Sunday 30th January 2022 @17:30 – Planet Ice Altrincham
Manchester Storm look for revenge against Glasgow Clan in EIHL action this Sunday.
Doors open at 16:30 for a 17:30 faceoff.
Last weekend Storm travelled up north to chase two points on the road. The final result fell 4-3 to Clan.
Despite the result, Ben Solder claimed his first pro point with an assist on Thompson's goal. Joe Hazeldine also picked up a goal on the night and USA born, Albrecht got the third and final goal for Manchester.
View Manchester Storm fixtures for the remainder of the 2021/22 season here. Please be aware some fixtures may change due to covid protocol and keep an eye out on social media for our rescheduled fixtures.
WEBCAST
If you can't make tonight's game, get the webcast via Storm TV here. 
TEAM NEWS 
Storm forward Adam Brady sits at 7th place in the EIHL top ten leaders with 31 points including 12 goals and 19 assists.
We are thrilled to announce that Ben Wilson is also back in the lineup following an injury.
COVID-19
The legal requirement to wear face masks ended on 27th January 2022. Please continue to show kindness and consideration to any fans who may still be nervous about being part of a crowd as restrictions are eased.
50/50 AND SHIRT OFF THE BACK RAFFLE
This weekend you can win Scott Simmonds' game worn Pride jersey. Enter here, tickets are just £1.
50/50 is now operating as cash only and you can buy tickets from match night stewards and the Storm Support desk. 
STORM SPORTS
Storm Sports Store will be open an hour before the game and during intermissions. Storm Sports sells a variety of Manchester Storm merchandise and various hockey equipment. 
Can't make the game? See what's available via Storm Sport's website here. 
STORM SUPPORT
Head to Storm Support under block 112-113 to join the Supporters Club. Here you can purchase Storm merch such as pucks, and buy 50/50 tickets and your chuck a pucks. Chuck a puck is held during the second intermission. 
Follow Storm Support on Facebook @McrStormSupport or Twitter via @Mcr_StormSuprt
If you've never visited the 'Storm Shelter' before and want to know how to find us, please visit the Planet Ice, Altrincham website HERE – see 'find us' section.
– Doors open 4:30PM
– Face-off is 5:30PM
– Tickets from £9 
– Family tickets available 
– Train & tram links adjacent to venue
– Car parking available (Free after 6PM)
#WeAreStorm | #Manchester