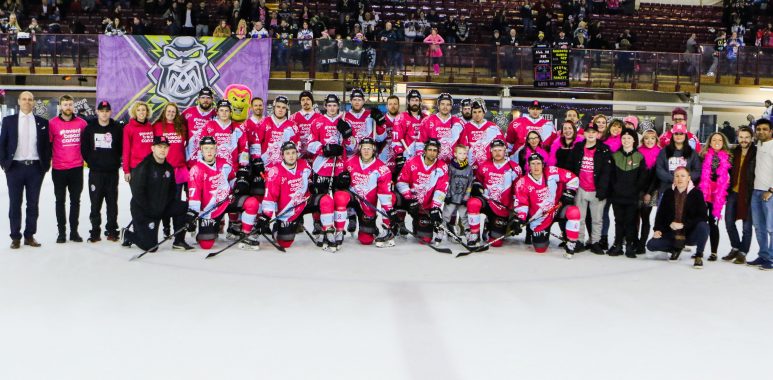 Pink The Rink Charity Fixture Great Success Despite Loss
Your Goodwin Group Manchester Storm welcome the Guildford Flames on Friday 20th March here at Planet Ice Altrincham in Elite League action! Tickets can be ordered online, by calling 0161-926-8782, or in person at the box office. Face-off is 19:30
Your Goodwin Group Manchester Storm came up short against Coventry Blaze on Saturday night, with a 4-1 loss. It was the highest attended 'Pink The Rink' Charity fixture since re-formation  with 1,980 packed into the 'Storm Shelter', the club would like to thank everyone who attended our fixture on Saturday night and all those who donated money to 'Prevent Breast Cancer' Charity and those who helped organise the event.
A lively opening stanza saw two goals for the visiting Coventry Blaze. A sublime finish from Johnston was followed by another goal from Lawerence. These two goals were the only tallies in a largely entertaining first period.
The hosts crawled their way back into proceedings when an unlikely attempt from Gagnon snuck into the Blaze goal, at 24:30. However, the Storm were made to pay for taking a minor penalty when M. Pohlkamp tucked away a rebound. Any chance of comeback was soon dissipated when the in-form Ferrara tapped in a bobbling puck at 47:58.
Despite the best efforts of the hosts, the game clock expired with no further real goal scoring being fashioned.
Man of the Match: Mathieu Gagnon (Storm) & Andrew Johnston (Blaze)
Your Goodwin Group Manchester Storm welcome the Guildford Flames on Friday 20th March here at Planet Ice Altrincham in Elite League action! Tickets can be ordered online, by calling 0161-926-8782, or in person at the box office. Face-off is 19:30