Latest News
Match Previews
MATCH PREVIEW: Storm kickstart Paint Altrincham Pink
Pink the Rink: Your Goodwin Group Manchester Storm welcome the Coventry Blaze on Saturday 7th March here at Planet Ice Altrincham in Elite League action! Tickets can be ordered online here, by calling 0161-926-8782, or in person at the box office. Face-off is 19:00
Manchester Storm v Coventry Blaze – Saturday 7th March 2020 – Planet Ice Altrincham –  F/O 19:00 (doors open 18:00)
Get ready for some Saturday night hockey, as Storm are back at the Storm shelter against visitors, Coventry Blaze.
There are only three home games remaining of the regular 2019/20 season. These three games will see the Storm looking to remain in a playoff position, against Blaze, Flames and Steelers.
Storm currently sit in 7th place in the EIHL table with 41 points.
There is another big crowd expected on Saturday in what is shaping up to be a HUGE Elite League fixture!
PINK THE RINK
Fans of both teams are requested to wear pink for this weekend's game, as the club helps kickstart Altrincham's annual Paint Altrincham Pink Week.
The Storm are teaming up with Prevent Breast Cancer UK Charity for this special event. You can read more about the charity and Paint Altrincham Pink here.
SKATE WITH THE STORM
The popular Skate with the Storm is back this Saturday after the game. Grab your skates, or pay just £3 at the skate hire booth and hop on the ice for a skate with your favourite players.
Read more here.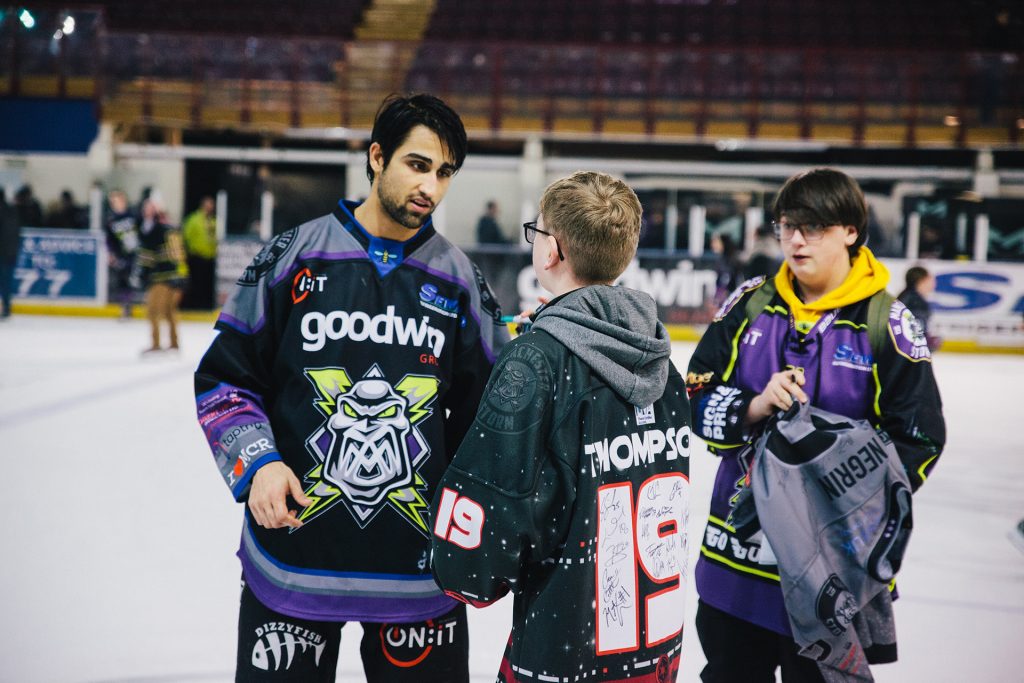 JERSEYS
The Storm players will be wearing special pink jerseys this Saturday. All their jerseys will be raffled off in a special Shirt off the Back raffle. Everyone has a chance to win, so enter as many times as you want in order to be in for a chance to win!
Due to popular demand, there will also be some more replicas available in Storm Sports store. 10% from each sale will be donated to Prevent Breast Cancer.
Thanks to our jersey supplier Dunamis Sportswear for producing the jerseys, and to our graphic designer Andrew Duxbury Design for creating these one of a kind jerseys.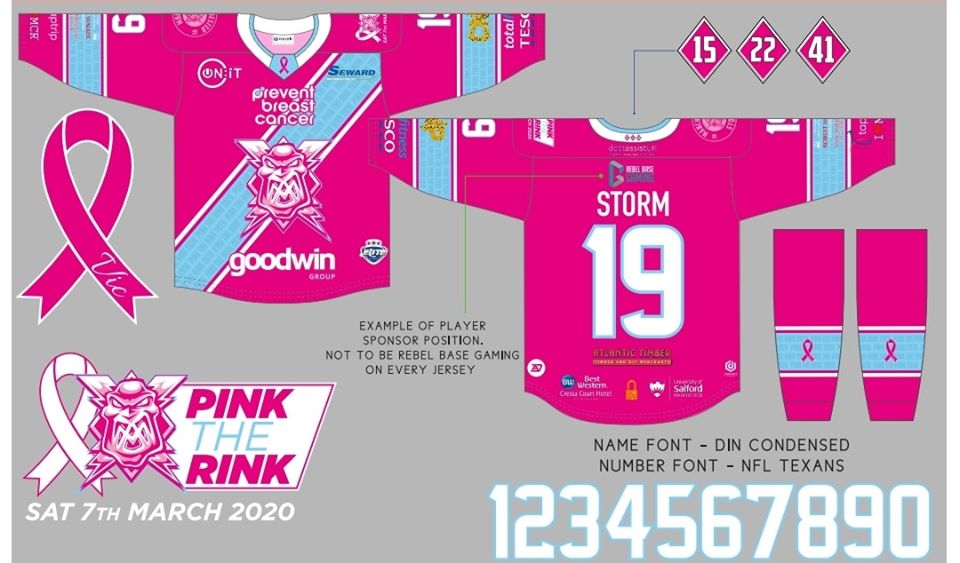 MATCH NIGHT INFORMATION
Doors open Saturday 7th March at 18:00PM
Face-off is at 19:00PM
Ticket information for games can be found here
Skate with the Storm is back, skate with the players after the game for free with skate hire just £3.00
Check out Storm Sports Store to get all your Manchester Storm merchandise and more
Visit Storm Sports website here
Match night raffle tickets can be purchased by match night volunteers around the rink and from the OSC – who are located under block 113
Visit  the OSC stall to purchase 50/50 and Shirt off the Back tickets, also enter the match night "Chuck A Puck" competition or sign up to the Supporters Club for the season
The club's official pub, the Station is the place to go for some pre-match drinks
Storm TV have you sorted for this weekend's game, you can buy the webcast here
If you're looking at group bookings for the final games of the season, contact liam@storm-office.com for more information
Our next home game falls on Friday 20th March against the Guildford Flames. Face-off is 19:30 and is our penultimate game of the regular 2019/20 season. Wear the colours and come and kickstart your weekend, as Storm push for playoffs.
Pink the Rink: Your Goodwin Group Manchester Storm welcome the Coventry Blaze on Saturday 7th March here at Planet Ice Altrincham in Elite League action! Tickets can be ordered online here, by calling 0161-926-8782, or in person at the box office. Face-off is 19:00