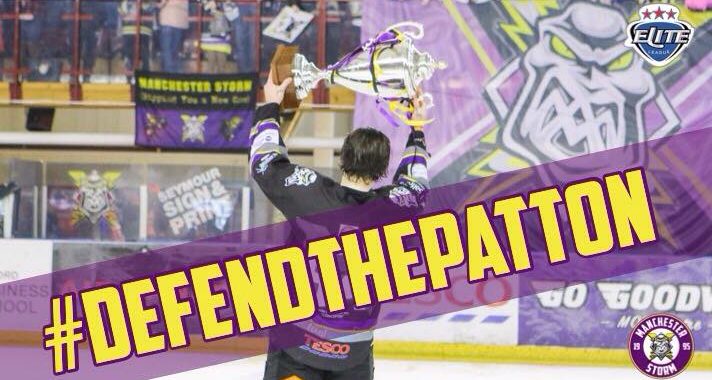 Storm to Raise the Patton Conference Banner this Saturday!
Tickets for Storm's upcoming game against Coventry Blaze can be ordered online HERE, or by calling the box office on 0161 926 8782, or in person at the box office.
Your Go Goodwins sponsored Manchester Storm are pleased to announce the raising of the Patton Conference banner this Saturday against Patton competitors, Coventry Blaze!
The banner will be raised to the rafters this Saturday in a ceremony, prior to the 7:00pm face-off. Make sure you give yourselves enough time to make your way to the Storm Shelter.
For those who missed the opportunity in March's game against Blaze, there will be a chance for fans to get their photos taken with the Patton trophy in Jack's Bar at the end of the game.
The team's Head coach, Ryan Finnerty looks forward to seeing the Patton banner up in the Storm Shelter, commenting;
"It will be a great time to look back on the success of last season and I hope all of our fans come out to celebrate this Saturday as we look to defend our conference title."
Bring your friends and family along to witness this special event! With Storm winning five out of the eight games last season, it's set to be a highly competitive game against the Blaze, let's pack the shelter!
Treat your kids to the OSC's special spooky Halloween themed party with the team on Friday 26 October, at The Station Hotel HERE. There will be games and scary chocolate making with Oliver's Chocolate Parties.