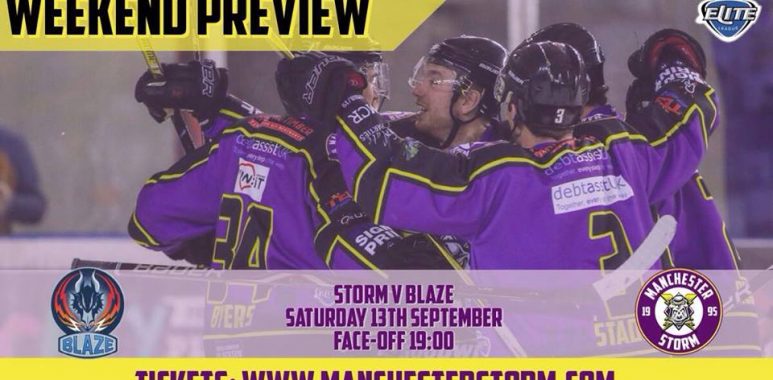 Latest News
Match Previews
Weekend Preview: Storm Meet Blaze Twice in Double Header
Tickets for Storm's upcoming game against Coventry Blaze can be ordered online HERE, or by calling the box office on 0161 926 8782, or in person at the box office.
Last weekend saw Storm on a road trip to South Wales to face last season's league and playoff title winners, Cardiff Devils. Despite the results, it was a well fought and challenging battle. Storm managed to put a smile on the faces of everyone during last Sunday back at home game against visitors, Glasgow Clan, finishing in regulation on a four goal difference, with a 6-2 win.
This weekend sees a double header and first meeting this season against Patton Conference rivals, Coventry Blaze.
Matt Ginn's game worn Four Nations jersey, signed by the team, will be up for grabs in Storm Sports Store this evening. Tickets for the raffle are £1 per ticket or £5 for a strip by the shop and the OSC table.
The Patton Conference banner will be raised to the rafters in a ceremony, prior to the 19:00 face-off. Following the game, there will be a meet and greet in Jacks Bar, and a chance to get your photo taken with the Patton Conference Trophy. Bring some friends, something to be signed and make sure you give yourselves enough time to make your way to the Storm Shelter. This special event isn't one to be missed!
COVENTRY BLAZE: 13th October, 19:00 face-off, Planet Ice Altrincham.
14th October, 17:15 face-off, Skydome.
Blaze are back this season with five returnees; including player/assistant coach, Kevin Noble, British forwards, Ross Venus and Luke Ferrara.
New to the team but not the EIHL include the likes of British defenceman, Edward Knaggs, Scotsman, Alex Forbes and dual national, Dillon Lawrence. Alex Nikiforuk is also back in the EIHL after spending last season in the France league.
There are numerous fresh faces to the team this season and too many to mention, including American forwards, Shawn Pauly and Jake Hansen, and Canadian defenceman Trey Lewis. This season's roster also has dual national centre, Tim Crowder – the brother of Paul Crowder, ex Devil and current Flyer.
Having been products of the Blaze youth team, British defenceman, Oliver Lord and forward, Matthew Maurice, are stepping up the EIHL from the NIHL, on two-way contracts.
The club had disappointing news this Summer, as Canadian netminder, Kevin Nastiuk announced he would no longer be returning to Blaze, due to to ongoing medical reasons. Stepping in and being "saved from retirement" is Miika Wiikman, a reliable netminder, and a renowned face to the EIHL.
Storm beat Blaze in five out of eight games last season, with an almost brand new Blaze team this season, it'll be interesting to see them go head to head for the first time of the 2018/19 season this weekend.
One to Watch: Kelin Ainsworth
MATCH NIGHT INFORMATION
Doors open Saturday 13th from 18:00
Face-off is at 19:00
Stick Raffle is Ciaran Long – see sellers around the rink and at the OSC desk
SOTB is Dallas Ehrhardt – see sellers around the rink and at the OSC desk
Matt Ginn's game worn, signed Four Nations jersey will be up for grabs in Storm Sports Store this evening. Tickets for the raffle are £1 per ticket or £5 for a strip by the shop and the OSC table
50/50 & "Chuck A Puck" can be bought from the OSC stall, underneath block 113
Webcast for the game can be bought HERE for £10
There will be a skating session available after the game, free with skates or £2.50 for skate hire
The Station Hotel, Storm's official pub, will be open to fans for pre-match drinks
Find the information for the rinks entrance arrangements here
Next weekend Manchester Storm face Pacha's, Dundee Stars Saturday 20th October, 19:00 face-off at home. They then travel across the pennines to face Sheffield Steelers for an early face-off of 4pm.
Treat your kids to the OSC's special spooky Halloween themed party with the team on Friday 26 October, at The Station Hotel HERE. There will be games and scary chocolate making with Oliver's Chocolate Parties.